Blog
4 Blackberry Benefits for Skin: A Comprehensive Guide by Healthy Master
by Bsocial Consultant on Jun 03, 2023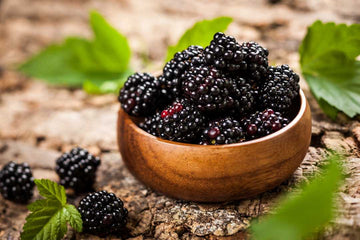 Do you want to glow from within? Dozens of skin care routines are available online. However, if you want to age like a fine wine without spending money on chemical-filled skin treatment products, then it's time to incorporate blackberries. To leverage the blackberry benefits for skin, you can either add them to your diet or apply a homemade blackberry mask on your skin.
Blackberries help you get nourished, glowing, and healthy skin as they are packed with antioxidants such as bioflavonoids and phytochemicals. Moreover, the presence of vitamins A, C, and K and omega-3 and omega-6 fatty acids improves the skin's health in many ways. In this blog, we will introduce you to the 4 blackberry benefits for skin.
Blackberry Benefits for Skin
Blackberry seed oil has many benefits for the skin, as it is full of skin-friendly nutrients that help keep your skin clear, clean, and hydrated.
#1: Anti-aging properties
How many products do you use to get young, youthful skin? If we say that you could get smooth skin by applying a homemade blackberry mask on skin, what will be your reaction? Blackberry is a superfood for skin as it is rich in anthocyanins, an antioxidant that reduces fine lines and wrinkles.
Moreover, blackberries also contain vitamins A and C, which further shield the skin from damaging UV rays and reduce the appearance of wrinkles.
Homemade Blackberry Face Mask
Take fuller's earth powder (multani mittti) and add blackberry juice to it to make a thick paste. Apply this paste on your face for 2 minutes. Rinse it off with fresh water. Regular use of this mask will remove dirt and excess oil from the skin.
#2 Hydrates Your Skin
Blackberries contain up to 85% water, making them an ideal option to hydrate the skin from within. When skin hydrates from within, it reduces the chances of pimple breakouts and other issues. Simultaneously, it improves dry skin and moisturises it naturally.
Also Read: Blackberry Recipes for Skin 
#3 Skin Rejuvenation
Blackberry oil is packed with vitamins A, C, and K. These vitamins reduce dark circles, scars, sun spots, and similar skin issues. Apply the following homemade face mask to get fresh and radiant skin:
Extract juice from blackberries.
Add some honey to it. Mix it well to make a smooth paste.
Apply this mask on your face. Rinse it off once it dries.
#4 Fight Free Radicals
Exposure to UV radiation, pollutants, and other external elements increases free radicals. Free radicals can trigger oxidative stress, leading to dark spots, sagging skin, and ageing. Anthocyanocides and polyphenols are the two main antioxidants in blackberries that fight against free radicals.
Conclusion
Blackberry is no less than "chota packet, bada dhamaka". The exfoliating and antioxidant properties of blackberry, coupled with its vitamins and essential fatty acids, do wonder for improving the texture and health of the skin. Unlock the potential of blackberry benefits for skin by incorporating them into your skincare routine or indulging in their deliciousness as part of a balanced diet. Order premium blackberries from Healthy Master and achieve radiant, youthful, and healthy skin.
Also Read:
5 Health Benefits of Eating Blackberries Every Day