Blog
Skin Care Guide 2023: Dates Benefits for Skin
by Bsocial Consultant on Apr 29, 2023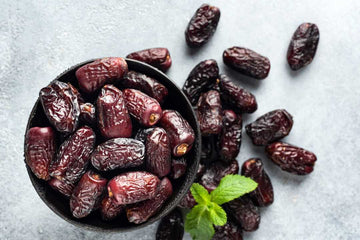 Healthy and glowing skin is your desire too, just like everyone else's. To fulfil it, you must be using chemical-based skincare products, visiting a salon to remove skin tan and blackheads, or taking treatment to get relief from acne. Till now, you must have observed that these chemical-based products and treatments provide only short-term benefits. If you are tired of these products and treatments, make the switch to dry dates. Add them to your diet and skin care routine to enjoy the long-term benefits like smooth, shiny, and acne-free skin. 
Dry dates are beneficial for the skin as they are packed with essential minerals and vitamins B like folate and pantothenic acid. Moreover, dates are a good source of antioxidants that prevent cell damage.
Without further delay, let's discover the amazing health benefits of dates on the skin. 
7 Benefits of Dates for Skin
Relief From Acne

Does the acne break out on your skin frequently even after using the best face wash? Acne occurs when tiny holes (hair follicles) become blocked with oil, dead skin, or bacteria. 
Dates are a natural and effective cure for acne, as they have a rich presence of Vitamin B5, which helps reduce the frequency of acne breakouts. Moreover, the protein and antioxidant content in dates (khajoor) helps in the prevention of bacterial infections that lead to acne. Among all dates varieties, Medjool dates are best for acne-prone skin. 
Protection from Sunburn

In the summer, protection from sunburn becomes a major concern for everyone. In addition to applying sunscreen before stepping out, you must add dry fruits like dates to your diet that protect your skin from harmful UV rays.
Adding dates to your skincare routine protects the skin from UV rays and free radicals. Moreover, dates have vital nutrients that provide relief from sunburn.
Improve Skin Complexion

The presence of Vitamin A improves the skin complexion. Vitamin A provides a natural brightening glow to the skin. Furthermore, dry dates are a good source of iron, which boosts the level of oxygen in the skin, therefore imparting a healthy glow. 
Also Read: 5 Best Dry Fruits for Glowing Skin
Natural Skin Moisturizer

If you are looking for a natural skin moisturiser, then you can try the paste of dry dates. To make the face mask from dates, follow these steps:

Step 1 - Soak the 3-4 dates in milk overnight. 
Step 2 - In the morning, make a smooth paste of it in the grinder. You can add malai to it as well. 
Step 3 - Apply this face mask to your face and leave it to dry for 20 minutes. 
Step 4 - Wash your face with lukewarm water. 
To get the best results, apply the date face mask three times a week. 
Skin Exfoliator

Are you unable to visit the parlour for skin exfoliation? Try out the homemade dry dates paste as a natural skin exfoliator. Do you know dates are rich in Vitamin A, which helps in the removal of dead skin cells? 
Soak 2–3 dates in warm milk. Once they are soft, smash them and add sooji to make a paste. Apply the paste to your face and scrub gently for 3–4 minutes. Wash it off with lukewarm water. Date paste, acting as a natural skin exfoliator, helps in the removal of tan from the skin and black heads. 
Improve Skin Elasticity

Do you know dates are rich in vitamins C and D? Vitamin C and D help in collagen production, therefore improving your skin's elasticity. Moreover, dry dates are known for their anti-ageing properties. 
Dry dates (khajoor) provide your body with vitamins that help produce collagen, therefore making them one of the best dry fruits for skin. 
Also Read: Black Raisins Benefits for Skin
Treat Chapped Lips

Sunburn, environmental exposures, and dry weather cause chapped lips. Eating dates can make your lips soft. 
Dates are a wonderful source of vitamin A, which promotes the health of the immune system and shields the lips against contaminants, toxins, and infections that can dry them out. Eat dry dates daily to treat chapped lips.
Also Read: Benefits of Dates with Milk
Conclusion
We are sure that the incredible health benefits of dates on the skin would have amazed you. So, what are you waiting for? Add dates to your skin care routine to get glowing, young, and soft skin. If you don't have dates at home, you can
order dates online
from Healthy Master, a one-stop online platform for all your dry fruits and healthy snack needs. 
Also Read
:
4 Walnuts Benefits for Skin