Blog
Diwali Delights: Celebrate with Healthy Master's Thoughtful and Nutritious Diwali Gift Hampers
by Mary James on Oct 06, 2023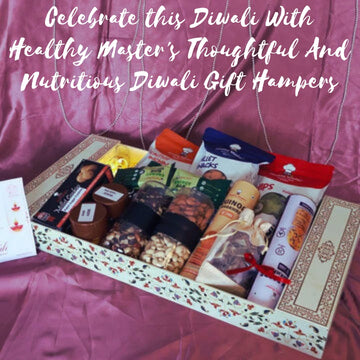 Diwali Delights: Celebrate with Healthy Master's Thoughtful and Nutritious Diwali Gift Hampers
Diwali also known as Deepawali is a festival that is celebrated in India and by Indians across the world. The festival focuses on love and eradicating negative energies with lights. During this time you can see people reuniting especially those who have lost contact with each other and forgiveness plays its role in bringing the whole community as a family together in the form of gifts and celebrations.
Of all, Diwali is not just about lights and presents; it is also a time for introspection and making the necessary changes in one's life moving forward. To revive ties among their loved ones, people adjust their lifestyles and employ the forgive-and-forget technique during this period.
The concept of giving gifts to those we love or know, such as friends or coworkers, is one of the largest aspects of this time of year. This tradition revolves around the idea of spreading joy which focuses on the importance of being a generous individual. And of course, the idea behind gift giving during Diwali goes beyond just material gifts; it also focuses on the thoughts that go behind choosing such a gift.
To sum it all up, Diwali has a very special place in the hearts of all Indians since it is a time when goodwill, compassion, and the giving and receiving of gifts are at their highest. Diwali puts us in a position to understand the importance of giving and being kind to those around us.
This year, Healthy Master enables you to fully appreciate the holiday season by giving your loved ones, friends, and coworkers thoughtful presents that are centered on improving their long-term health. Check out their Diwali Gift Hampers if you're seeking thoughtful presents that can improve the health and welfare of folks in your community.
The Shift Towards Health-Conscious Gifting During Diwali Celebrations
A very obvious trend towards health-conscious products or the health and fitness industry as a whole has emerged in recent years, particularly in the wake of the Covid-19 outbreak. People are well aware of the need to maintain a healthy lifestyle to avoid any future health-related concerns. 
Diwali is a season that focuses on the distribution of sweets and snacks, which most of the time are less nutritious. But slowly this issue is becoming the main target for companies like Healthy Master as they are starting to evolve to transform our Diwali gifting snack options into normal snacks that are infused with nutrients.
One of the main reasons that has caused this shift is that people have started becoming aware of the damage certain or less nutritious food items are causing to their health.
This includes chronic illnesses like diabetes, increased blood sugar, diabetes, and obesity; all due to the consumption of processed or oily food items. However, items like nuts, dry fruits, and seeds have gained immense popularity due to their numerous health benefits.
Especially after the pandemic most of us are now focused on improving the health of our immune systems and maintaining our body health in general. As a result, gifts like snacks packed with nutritious elements are great options for this festivity and would also make people understand your good and healthy motives behind it.
The sudden shift towards health-conscious gifting is also due to the fact that people are now becoming obsessed with fitness and many people prefer to change their lifestyles.
You can notice that many people prefer gluten-free products or products that align with their different diets like Keto Diets for example. The demand for these types of products keeps growing by the day which is where companies like Healthy Master step in to offer personalized gift hampers that cater to your different dietary requirements.
Overall, the change in gear towards a health-conscious Diwali is a good one as it focuses on prioritizing health and wellness. It is also one of the ways to express our concern for our loved ones during this festivity.
Therefore, the whole revolution behind switching to health-conscious Diwali Gift Products aligns with the morals of Diwali itself which speak volumes about promoting well-being and joy among the people.
A Showcase Of Healthy Master's Diwali Gift Hamper Offerings
Contents: Almond (250 gm), Cashew (250 gm), Dry Fruits Chocolate (250 gm)
This hamper boasts a delightful assortment of wholesome treats that are packed with nutrients and are great on your tastebuds.
It contains almonds which are nutritional powerhouses themselves since they contain huge resources of vitamins, healthy fats, and minerals. Since they offer a good dose of fiber and protein, they are definitely your perfect choice when it comes to snacking. They are a great much and do have their benefits that contribute to glowing skin and improved heart health,
Next in line is a generous portion of cashews which is both creamy and delicious. This snack contains an overload of nutrients like antioxidants and magnesium. It also comes with health benefits such as boosting your immunity, enhancing bone health, and giving your body energy.
Finally, the last product which is the dry fruit chocolate is a great snack that is both healthy and delicious. Dark chocolate is positively known for its mood-enhancing properties and being rich in antioxidants. The dry fruits offer a natural source of sweetness including their dose of fibers and vitamins.
Content: Pista(500gm), Almond (500gm), Cashew (500gm), Kismis (500gm), Millet Snacks (150gm), Baked Chips (100gm)
This lavish hamper is filled with a wonderful selection of high-quality goods that promise to tantalize your senses while giving your holiday pleasures a healthy spin.
Pista, almond, cashew, and kismis are the main ingredients in this exquisite gift. These magnificent nuts and dried fruits are an incredible source of important nutrients in addition to being a feast for the taste buds. 
Pista offers a special combination of antioxidants and fiber, while almonds, cashews, and other nuts are excellent sources of protein, good fats, and vitamins. Kismis, or raisins, provide a touch of iron and an organic sweetness to the group, making this selection of four the ideal guilt-free snack.
This hamper also includes Millet snacks. Millets are a type of ancient grain prized for their high nutritional value, as they contain a variety of nutrients and fiber. These snacks have a delicious crunch and help with digestion and general well-being.
The box also includes baked chips for those who are in the mood for a salty treat. With the same delightful crunch and less fat than fried munchies, these guilt-free chips are a better option. They are ideal for sating savory appetites while maintaining your health.
Content: Kismis (100 gm), Pista (100 gm), Khakhra (150 gms), Almond Chocolate (5pcs), Baked Chips (100 gm), Pan Chocolate (5pcs)
Each item in this carefully chosen hamper has been chosen to offer a delicious balance of flavor and sustenance.
Kismis and pistachios, which make up the bulk of this hamper, are its main ingredients. Kismis are nature's candy since they are naturally sweet and have energizing qualities.
On the contrary, pista has a delightful crunch and is packed with vitamins, healthy fats, and antioxidants. They not only tempt your taste buds but also encourage general health.
Khakhra, a popular Indian snack prepared from whole wheat flour and flavorful spices, gives the collection a savory edge. In addition to being a delicious treat, it is a good source of dietary fiber, which helps with digestion and keeps you feeling full and pleased.
The hamper includes pan chocolate and almond chocolate, each with five exquisite pieces, for people with a sweet craving. This is a delicious and sensible treat because chocolate, in moderation, may improve your mood and deliver antioxidants, while almonds are renowned for their protein content and vitamin E.
Additionally, it also contains baked chips which ensure a guilt-free munching experience because they have the same delightful crunch as their fried counterparts but use much less oil.
Contents: Energy bar (3pc), Chocolate (100gm), Baked chips (100gm), Daily power booster (100gm), Seeds and berry sprinkle (100gm), Khakhra (150gm)
The Wholesome Celebration Box 3 is an exquisite assortment of nutritional goodies that wonderfully captures the sense of a balanced and happy celebration. 
The energy bar, which comes in three pieces in the package, is the highlight of this assortment. In addition to being delicious, these bars contain a potent source of ingredients that help you stay awake, like nuts, seeds, and dried fruits. They are an excellent option for people looking for a quick, nourishing pick-me-up because they make for easy on-the-go snacks.
Chocolates are included in the package for individuals who like their sweets. In moderation, chocolate is known for its mood-lifting effects and the antioxidants it contains, adding a delicious touch to your celebration while perhaps providing health advantages.
This hamper contains baked chips to satisfy savory appetites without sacrificing health. These chips have the same delightful crunch as typical fried nibbles while using substantially less oil, making them a guilt-free substitute.
A daily dose of vigor and well-being is provided by the daily power booster, a combination of superfoods and nourishing nutrients included in the hamper. It's an easy approach to increase your intake of nutrients and maintain your energy levels throughout the day.
The box also includes seeds and berry sprinkles, a delicious combination of crunchy seeds and dried berries that can be added to salads, smoothies, and yogurt. This combination helps your daily intake of important nutrients while also enhancing the flavor of your meals.
Khakhra, a popular Indian snack made with whole wheat flour and spices, is the last item on the box. Khakhra is not only delectable but also a good source of nutritional fiber, which helps with digestion and makes you feel full.
Content: Daily Powder Booster (300gm), Khakhra (150gm), Daily Fruits Chocolate (100gm), Energy Bars (3pcs), Seeds and Berries Sprinkle (100gm), Mixed Berry (100gm), Baked Chips (100gm)  
The Diwali Wonders hamper was created to brighten your Diwali celebrations with a selection of specially chosen delicacies that not only satiate your palate but also advance your general well-being.
The Daily Power Booster, a hefty combination of superfoods and healthy nutrients, is the centerpiece of this hamper. This super-supplement gives you a daily serving of vitamins, minerals, and antioxidants that are crucial for your health and well-being during the holiday season.
The box includes khakhra, a popular Indian snack noted for its crispiness and flavorful spices, for those who are in the mood for a savory crunch. With its high fiber content, khakhra not only tempts your taste senses but also aids in a healthy digestive system.
You can enjoy a delicacy that blends the deliciousness of chocolate with the benefits of dried fruits, 'Daily Fruits Chocolate', to satisfy your cravings for sweets. A dose of antioxidants and natural sweetness are both provided by this wonderful mix in a single mouthwatering bite.
Three energy bars are the ideal portable snack to keep your energy levels high throughout the celebrations. These bars, which are stuffed with nuts, seeds, and dried fruits, provide a quick and wholesome pick-me-up to keep you energized throughout the Diwali celebrations.
The gift includes Seeds and Berries sprinkles and Mixed Berries for a burst of flavor and nutrients. These adaptable items can be included in salads, smoothies, and yogurt to improve the flavor and nutrient content of your food.
Lastly, you can indulge in baked chips, a healthier substitute for classic fried treats. These chips drastically reduce the amount of oil while maintaining the delightful crunch of their fried counterparts, making them a guilt-free snacking option.
Content: Energy Bars (3pcs). Baked Chips (100 gm), Chocolates (10pcs), Flavored Cashews (100 gm), Flavored Almond (100 gm), Diya (1pcs)
The Shimmering Delights Hamper is a glistening treasure trove of nourishing and decadent goodies made to bring a glimmer to your festivities.
Three energy bars, each filled with healthy nutrients including almonds, seeds, and dried fruits, are the centerpiece of this hamper. These bars are the ideal food to keep you energized throughout the festivities because they give you a rapid energy boost.
The hamper comes with baked chips for those who are in the mood for a salty crunch. These chips have the same delightful crunch as conventional fried snacks but use a lot less oil, so you can enjoy them guilt-free.
It includes ten delicious chocolates to satiate your sweet taste. These chocolates are a wonderful addition to your celebration because, when consumed in moderation, chocolate has been shown to improve mood and contain antioxidants.
It also includes flavored cashews and almonds for an air of luxury. These nuts have a delicious mix of flavor and nutrients thanks to their coating of a tantalizing combination of spices and flavors. Almonds are high in vitamins and antioxidants, while cashews are a good source of protein and healthy fats.
The gift basket also comes with a traditional Diwali diya (light) as a representation of the festival's enthusiasm. Your Diwali celebrations will have a lovely, symbolic touch thanks to this diya, which represents the victory of light over darkness.
Conclusion
Ultimately, by providing a great opportunity to spread health and pleasure with your loved ones, Healthy Master's Diwali hampers capture the genuine essence of the season. These hampers go above and beyond the typical Diwali gifts by giving a delicious and nutritious combination that makes givers and receivers happy.
Gifting hampers from Healthy Master is a great option since you know that you are showing care and concern in addition to giving a gift. It's a chance to let your loved ones know that you care about their wellbeing and that Diwali may be observed in a way that supports their health and happiness objectives.
The notion that the beacon of good health should shine brightly during the celebration of lights is demonstrated by these hampers. It serves as a reminder that Diwali celebrations don't have to be associated with overindulgence but may instead be a time to savor delectable foods that are good for the body and the soul.
So keep in mind that Healthy Master's Diwali gift hampers are an excellent way to convey not just joy but also the priceless gift of wellness and contentment during this special season, whether you're distributing these hampers with friends, family, or coworkers or enjoying them yourself.
By spreading the generosity and love contained in each of these hampers, you can make your Diwali festivities extremely memorable.
Frequently Asked Questions
What kinds of products are contained in the Diwali gift hampers?
Our Diwali gift hampers include a variety of products that have been carefully chosen to suit a range of tastes and preferences. These gift baskets frequently include a variety of premium nuts, dried fruits, decadent chocolates, energizing bars, and other wholesome goodies. 
This selection aims to provide each hamper with a delectable blend of flavors and nutritional content, making it appropriate for both giving and personal consumption.
What distinguishes Healthy Master's Diwali gift hampers from others?
Our Diwali gift baskets are distinctive in that they combine the delight of giving a traditional gift with a contemporary emphasis on health and wellbeing. We take pleasure in providing a variety of products that not only tempt your taste buds but also improve your general health and happiness. 
It's our way of spreading holiday cheer and celebrating Diwali in a way that supports your commitment to living a healthier lifestyle. Our hampers represent this belief by providing the priceless gift of health and pleasure throughout this unique season. We think that giving should be an act of compassion.