Blog
Diwali Gift Hampers: A Nourishing Gesture
by Mary James on Sep 24, 2023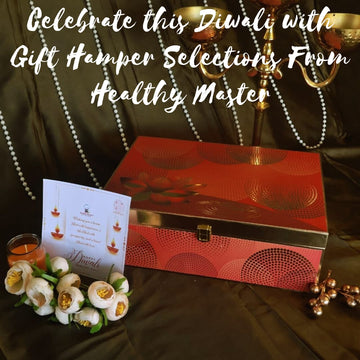 Diwali Gift Hampers: A Nourishing Gesture
Diwali is quickly approaching. There is a lot of Christmas anticipation and pre-planning going on as people determine the decorations, they need to cover their houses or other special locations to make them glitter with the joy of the holiday.
Giving presents is a crucial part of this event, in addition to the rush of preparations. When looking at Diwali celebrations in the modern era, there are many gift possibilities to consider. However, your first focus should be making a swift shift towards a health-conscious choice for the betterment of your neighborhood and loved ones. 
There has been a fixed concern for individuals' health, particularly since the Covid outbreak. In today's world, maintaining optimal wellness is the main objective. Healthy Master provides you with the ideal health-conscious snack for this Diwali, bringing a nourishing festival to your doorstep.
Why is Diwali Gifting Important?
Diwali gift-giving is seen as a significant deed because of its cultural and social importance to Indians and those who are Indians elsewhere in the globe. Let's examine a few of the reasons why Diwali is significant.
Cultural Relevance
Everywhere throughout India and in the communities of Indian descent, Diwali is observed. Everyone comes together to celebrate this holiday, regardless of their roots, transcending all cultures and beliefs.
Blessings Are Exchanged
In an Indian household, blessings play a significant role because of the positive energy they emit. People like to receive their blessings from family members or elders, which is the ideal approach to connect with those in your immediate vicinity.
Bonding
Many long-lost connections are rekindled around Diwali. Rekindling relationships with family, coworkers, and loved ones is another benefit. Gift-giving serves as a bridge to pair relationships in this case, and the best method to achieve this is to be sure to give them a gift that has sentimental value.
Making enduring memories
Selecting Diwali Gifts is very significant because each one you give has a special meaning and is kept in mind for a long time. The best course of action is to choose a gift that emphasizes the health of your loved ones. It sticks with them for a while to make sure that they always incorporate it into their daily lives.
Promoting diversity
Being generous allows you to give abundantly to those around you, which is a crucial aspect of Diwali. Even those who have less tend to share more of what they have. It serves as a means of encouraging the Diwali spirit by establishing an invisible link with uplifting forces.
Ecological Awareness
The way individuals give gifts has changed recently, and most people are seeking a more environmentally responsible method when giving to friends, family, and coworkers. Choosing a Diwali gift that is not just eco-friendly but also gives choices that are healthy is a major flex.
Finally, it should be noted that the main themes of the Diwali celebration are love, generosity, unity, and color. It becomes one of the most significant occasions of all festivals in the Indian community since it brings individuals from all backgrounds together and helps them develop a more optimistic attitude toward what life has to offer. 
Celebrating Diwali With A Healthy Twist: Why Choose Healthy Master?
Diwali is a time of year when there is a lot of joy and celebration. It's always a time when sweets and munchies are readily available. However, despite the fact that they provide fewer nutritional benefits, Healthy Master ensures that you have a happy Diwali by making nutritious choices that make it simpler and more considerate to enjoy with people nearby while promoting their health and well-being.
A Delicious Healthy Alternative
Healthy Master redefines Diwali by opening our eyes and tastebuds to the healthier side of snacks while complementing our taste buds. These snacks are also created on a health-conscious basis keeping our well-being in mind.
Nutrition Packed Delights
Healthy Master adheres to a strict standard to guarantee that their snacks are created with the finest high-quality ingredients and are packed with essential nutrients. Additionally, they emphasize the use of just natural flavors and not any artificial ones.
A Guilt-Free Diwali Feast
Diwali makes it easy for us to slip into less nutritious food options. Healthy Master, on the other hand, takes you by the hand and offers you wholesome treats so you can celebrate Diwali guilt-free. No matter your background when it comes to you working on your health and wellness, Healthy Master backs you up with their products pertaining to your dietary requirements.
Diwali Gifting That Satisfies 
By influencing Diwali to take on a more health-conscious tone, Healthy Master has unquestionably changed the way that it is perceived overall. They provide you a variety of Diwali gift baskets that are filled with wholesome snacks and make great presents for individuals in your life.
Environmentally Responsible Packaging
Healthy Master makes sure that their packaging is eco-friendly, demonstrating their regard for the environment. This is a fantastic way to consume some healthy snacks and contribute to the movement towards sustainability at the same time.
A Convenience In The Ordering
To take some of the work off your hands, Healthy Master allows you to place your orders online and ensures their delivery to your doorstep or the one that you are gifting it to.
Top 7 Diwali Gift Hamper Selections
Contents: Almond (250 gm), Cashew (250 gm), Dry Fruits Chocolate (250 gm)
This Diwali you can reward those around you with A hamper that is elegantly packed and is a nutritious choice as your gift selection. Health Master ensures that they provide you with the finest products to bring joy to your Diwali celebrations.
This hamper contains products that include almonds which are a great munchy snack that compliment your tastebuds. They are overloaded with nutrients and healthy fats which are great for your heart. 
The cashews are creamy with a nutty crunch and are a great source of antioxidants, healthy fats, and a lot of other minerals. The Dry Fruit Chocolate offers a luxurious taste of chocolate that contains dried fruits which is a great mixture of taste and health.
With the "Nourish And Shine Hamper 1" by Healthy Master, your Diwali festivities will be elevated. It's a lot more than a spread of munchies; it's an expression of love, well-being, and joy. Snacks that will nourish your body while illuminating your celebrations are the perfect way to mark the Festival of Lights.
Content: Kismis (100 gm), Pista (100 gm), Khakhra (150 gms), Almond Chocolate (5pcs), Baked Chips (100 gm), Pan Chocolate (5pcs)
This hamper is packed with different nutritional and flavorable options to choose from and enables you to celebrate a guilt-free Diwali.
Kismis also known as Raisins are a natural candy you would definitely enjoy munching on. These grapes are sundried and golden and are known for being jam-packed with a lot of nutrients, vitamins, and minerals. Pista are nuts that are enjoyed by most people due to their delightful crunch and delicate nutty flavor.
Pistachios are a nutritious powerhouse, and they are a good source of fiber, healthy fats, and essential vitamins and minerals. Khakhra is a savory pita made from whole wheat flour that is a typical Gujarati snack. It's a healthy, quick snack that's ideal for consuming at celebratory events. 
Almond chocolates add a bit of decadence to the Diwali Collection. A delicious harmony of tastes and textures is produced when almonds and chocolate are combined. This chocolate version of almonds, which stands for prosperity and wellness, is a wonderful treat.
The baked chips provide the same delightful crunch as typical fried chips without the added fat. Baked chips are proof of careful nibbling and allow you to take pleasure in the celebrations guilt-free. The Pan Chocolate is infused with the flavor of Pan making it a delicious snack.
Content: Energy Bars (3pcs). Baked Chips (100 gm), Chocolates (10pcs), Flavored Cashews (100 gm), Flavored Almond (100 gm), Diya (1pcs)
The Shimmering Delights Hamper is a beautiful selection of sweets made to make you smile and sate your hunger. This carefully chosen hamper is the ideal present for any occasion because it harmoniously combines enjoyment and health.
Treat your taste buds to a variety of mouthwatering chocolates that dissolve in your mouth and offer a delicious respite from the everyday. Our gift basket also comes with a tantalizing assortment of Baked Chips for a guilt-free crunch and Energy Bars to provide a boost of energy for people on the go. Flavored Cashews and Flavored Almonds, which offer an orchestra of flavors and leave you wanting more, have been added for nut lovers.
This hamper is also packed with a Diya for a final touch to your gift to celebrate the occasion.
Content: Energy Bar (3pcs), Chocolates (5 pcs), Dry Fruits Choco (100gm), Pista (100gm), Kismis Premium (100gm), Almond (100 gm), Cashew (100gm), Rangoli Powder, Jar Candle
You can enjoy an orchestra of flavours with a trio of energy bars which will give you a boost of vitality and five superb chocolates that will simply excite your tastebuds. 
This hamper offers Dry Fruits Choco, a delicious and crispy chocolate-coated assortment of dry fruits, along with premium Pista, Kismis, Almond, and Cashews, all carefully chosen to titillate your senses, for people who enjoy the union of health and luxury.
The hamper will come with a vivid Rangoli Powder so you can make beautiful designs to decorate your entryway and bring a bit of culture to your celebrations. And as dusk falls, the Jar Candle casts a cozy, inviting glow throughout your house.
Content: Pista (100gm), Almond (100gm), Cashew (100gm), Kismis (100gm), Anjeer (100gm), Apricot Turkle (100gm)
This well-chosen selection aims to delight your palate while fueling your body with nutrients. You'll find an abundance of high-quality nuts and dried fruits in this hub, such as delicious Anjeer, Almond Turkle, crisp Almonds, buttery Cashews, sweet and chewy Kismis, and sumptuous Pista. 
To guarantee that you enjoy both the flavor and the health advantages of these organic treats, each ingredient has been carefully chosen.
The Healthful Happiness Hub is your go-to pack for guilt-free pleasure, whether you're munching, baking, or just enjoying delicious goodies as-is. These options, which are abundant in important nutrients and antioxidants, not only satisfy your desires but also improve your general health.
Content: Almond (100gm), Cashew (100gm), Flavored Cashew (100gm), Flavored Almonds (100gm), Seeds & Berries Sprinkle (100gm), Mixed Berries (100gm).
This carefully chosen selection is a harmony of flavor experiences, ideal for spreading joy and happiness during Diwali. 
You'll find a variety of exquisite treats to tantalize your senses inside this sumptuous box. You can enjoy the deliciously rich and nutty Almonds and Cashews, which are a faithful representation of traditional Diwali sweets. 
Flavored Cashews and Flavored Almonds, which deliver a blast of distinct, savory flavors, have been added for a dash of modern flair.
This hamper also includes Seeds & Berries Sprinkle, a combination of nourishing seeds and colorful berries that can complement your dishes and snacks, to bring a healthy and vivid touch to your festivities. 
Additionally, Mixed Berries, a lovely mixture of dried berries, is available for people who enjoy the tart taste and are ideal for nibbling or as a garnish for holiday dishes.
Content: Khakra (150 gm), Baked Chips (200gm), Bhakarwadi (250gm), Energy Bar (3pcs), Cashew (100gm), Almond (100gm), Daily Power Booster (300gm), Triangle Candle Set (1)
This well-chosen hamper is a mix of flavors and sustenance that has been created to make each bite enjoyable.
The nutritional deliciousness of Cashews and Almonds, two traditional nuts that offer both taste and nutrition, are featured in this hamper for health-conscious snackers. Additionally, a blend of nourishing ingredients called the everyday Power Booster has been added to improve your everyday wellness.
With the Triangle Candle Set, you can create the perfect atmosphere as the day gives way to night, creating a cozy glow that goes well with your snacks.
Conclusion
Diwali shines a warm, bright light on the art of gift-giving, and what could be more sincere than making personalized Diwali Gift Hampers just for those around you. These baskets, which were diligently put together with a lovely selection of Healthy Master goods, represent more than just material gifts; they are actual manifestations of your love and genuine wishes.
These Diwali Hampers serve as an important reminder that the most valuable present you can give is happiness and health in a society that places an increasing emphasis on well-being.
They serve as a reminder of your love and shine an inviting warmth on the existence of your dear ones throughout this holiday season. In addition to embracing Diwali, you are accepting the goal of a more positive future for each and every one of you as you distribute these bundles of sustenance and well wishes.
Frequently Asked Questions
What is a Healthy Master Diwali Gift Hamper, and why should I think about one?
A Healthy Master Diwali Gift Hamper is a considerate and healthy approach to honoring the festival of lights. This selection of delectable and healthy snacks is ideal for giving as gifts to your loved ones. By selecting these gift baskets, you're not only spreading Diwali joy but also encouraging wellness.
What kinds of goodies will I discover in a Healthy Master Diwali Gift Basket?
Our Diwali gift baskets are packed with a variety of healthy treats like whole-grain crackers, organic dried fruit, roasted almonds, and sugar-free candy. Additionally, you'll come across specialty foods like gluten-free snacks and dark chocolates. In order to satisfy a variety of palates, we strive to offer a delectable combination of flavors and textures.
Is it possible to alter my Diwali gift basket to accommodate particular dietary needs or allergies?
Absolutely! We at Healthy Master are aware that every person has unique dietary requirements. By selecting from our extensive selection of snacks, you can tailor your gift basket to meet the dietary needs of the person receiving it, whether they are vegan, gluten-free, or follow a sugar-free diet. Simply inform us of your preferences, and we'll make a unique hamper especially for you.
Do the items in Healthy Master's Diwali Gift Hampers have a high standard of quality and are they current?
They are, indeed! We take satisfaction in only using ingredients and goods of the highest caliber. To guarantee they satisfy our high standards for freshness and flavor, each item in our gift baskets is meticulously chosen and examined. Your Diwali party should be delicious and enjoyable, according to us.
What's the best way for me to order a Healthy Master Diwali Gift Hamper?
It's simple and convenient to order a Diwali gift basket from Healthy Master. You may visit our website, look through our assortment of hampers, and then just add the items you want to the cart. Continue to the checkout to enter your delivery information and make a secure payment. During the process, our helpful customer support staff is available to help you if you have any inquiries or require assistance.