Blog
Think readymade snacks are bad for your health? Here are 6 readymade snacks in India, their benefits and how they could boost your health!
by healthy master on Mar 04, 2022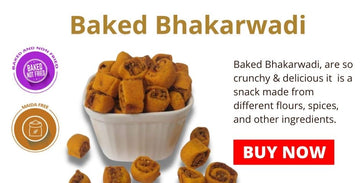 "Debunking the myth that all readymade snacks are highly processed and bad for your health by listing 6 readymade snacks in India that a person can eat to instead boost their health and build immunity."
Normally when people talk about readymade snacks, they think of some highly processed edibles with high amounts of trans fats, salt, and sugar that is really unhealthy for the body. But there is a big difference between "processed" & "readymade" foods, the difference is the ingredients used. Foods that are made with certain ingredients aimed with precaution and keeping healthy & nutrition factors in mind are bound to turn out to be a delicious ready-to-be-eaten healthy & yummy treat that you are sure to cherish.
Yes! You can eat healthy. Yes! You can eat tasty too!
Readymade snacks in India that you can eat to keep your body healthy and boost immunity
It's a pretty common misconception to think that all healthy foods are bland in taste which is not the case at all. Today, we will list you 6 such readymade snacks that you can add to your daily diet to reap their healthy benefits.
Roasted Makhana
Lotus Seed or Fox nuts, otherwise commonly known as "Makhana" in India, is a snacking gift that comes directly from nature itself. Makhana has been a staple of Indian Culture for a long time now. Grown in nature, the seeds are taken from a leaf where they are then washed, sun dried then roasted at high temperature until their black shells pop out crunchy white puffs.
Crunchy to eat and a great substitute to popcorn, Makahana is a light, low-calorie, and 0 cholesterol snack that can be seasoned with various spices and flavours to make it more delicious. It is a great snacking option for people who are actively trying to lose weight, following a Keto Diet or if they are diagnosed with diabetes. Makhana also carries an auspicious image among Indian culture as you can see them being used as offerings in temples.
Don't let the lightness of this snack fool you into believing that it is simply empty edibles. Roasted Makhana boasts an impressive nutrient profile as it is a snack that is rich in protein, magnesium, iron, phosphorus, carbohydrates, potassium, fibre and zinc. It is a rich source of Omega-3 fatty acids that is essential for a human body, thus giving you more of a reason to start munching on these crunchies!
Nutritional value of Roasted Makhana per 100g
| | |
| --- | --- |
| Energy | 498Kcal |
| Protein | 7.5g |
| Carbohydrate | 60g |
| Sugar | 10.3g |
| Fat | 25.3g |
| Saturated Fat | 9.4g |
| Trans Fat | 0.00g |
Table 1
At the Healthy Master shop you will find a variety of Makhana with different seasonings and flavours such as;
Peri Peri Makhana
Cream & Onion Makhana
Pudina & Salted Makhana
Paprika Makhana
Cheese Makhana
So, don't wait! Buy roasted makhana online on Healthy Master shop now!
Peanut Jaggery Chikki
Moving away from spicy to sweet, from one staple Indian snack to another very popular snacking option in Indian cuisine - Peanut Jaggery Chikki otherwise known as "Gajak". It is a traditional Indian sweet made from the goodness of peanuts and jaggery that is not only extremely crunchy & tasty to eat, but is also full of essential nutrients that your body needs to develop a strong defence mechanism.
A popular treat during winters due to its ability to keep the body warm and help it fight infections like cough, cold and sore throat. Chikki is rich in calcium, protein, magnesium, carbohydrates and Vitamin C with 0 Cholesterol. The best selling point about a Chikki is that it is a sweet dish made from Jaggery, an unrefined form of sugar that doesn't contain any preservatives. Peanut Chikki is a great snacking option that lowers cholesterol in the body, keeps the bones healthy and strong, and helps you fight diabetes. Chikki also gets the blood sugar level in check that is helpful in keeping your skin healthy and acne-free. Chikki is also a great edible option for pregnant women in order to keep supplying their body with vital nutrients while also staying healthy throughout the period.
Chikki is a great snack substitute for children and something that will help immensely in their growth and development. A great source of protein, Peanut Jaggery can also be consumed to grow muscles along with aiding in weight loss as it helps you feel full for a good part of the day while providing you with necessary energy to do your activities.
Nutritional value of Peanut Jaggery Chikki per 100g
| | |
| --- | --- |
| Carbohydrate | 66.12g |
| Protein | 8.60g |
| Fat | 15.00g |
| Fibre | 0.24g |
| Energy | 510.4kcal |
Table 2
Get the purest form of Peanut Jaggery Chikki on Healthy Master shop and Buy Jaggery Chikki online
Wheat Masala Mathri
Who doesn't love snacks when they're enjoying a nice warm cup of tea? Well, those love to eat something that isn't high on sugar, fried or oil for sure. But there is one such traditional Indian snack that has been long popular to be munched upon while having a masaledar chai and that is- Wheat Masala Mathri. Made with the goodness of wheat flour that is further embellished with various seasonings like spices, flaxseeds, etc.
This crunchy and delicious snack is enriched with complex carbohydrates, magnesium, phosphorus and healthy fats like omega-3 fatty acids that are essential for the body. Wheat Masala Mathri doesn't only prove to be a delightful edible to munch on, but also boasts properties that help boost the natural immunity. Wheat masala mathri is a rich source of lignans that helps in reducing the growth of cancer cells in the body.
By adding wheat masala mathri to your diet you can lower down your cholesterol levels while helping you keep your heart healthy and avoid the risk of heart disease like stroke. Rich in protein, this snacking delicacy can also be eaten right before or after a workout session to boost the growth of muscles and metabolism. Its high content of fibre also helps you feel full for a decent amount of time, reducing your cravings thus giving you a massive help in losing weight.
Nutritional value of Wheat Masala Mathri per 100g
| | |
| --- | --- |
| Energy | 502 Kcal |
| Protein | 10 g |
| Carbohydrate | 64 g |
| Sugar | 1 g |
| Fat | 25 g |
| Trans fat | 0 g |
Table 3
So grab that cup of tea and buy wheat masala mathri online to have a nice snack session for you!
Baked Chips
If there's one snack that is universally loved, it is chips but they are not healthy for you at all. Highly salted, containing trans fats and deep fried, they could prove to be fatal to your cholesterol levels and weight. But that can be easily overcome by choosing the right ingredient and making them right, if you opt for chips that are baked then not only you get a delicious snacking option for yourself but a snack that could come with various health boosting effects for your body. This is a great way to let you enjoy guilt-free snacking while watching your favourite TV Show or movies!
Nutritional value of common Baked Chips per 100g
| | |
| --- | --- |
| Energy(kcal) | 424 |
| Carbohydrates(g) | 78.12 |
| Fat(g) | 8.67 |
| Protein(g) | 6.2 |
| Sugar(g) | 0.00 |
| sodium(g) | 0.380 |
| Fibre | 5.6 |
Table 4
The most common baked chips that prove to be healthy for your body are:
Ragi Baked Chips: Made from the extremely nutritious Millet Ragi Grain, baked ragi chips are a great way to enjoy the benefits of ragi through a delicious treat this snack will help you lower blood pressure in your body, improve kidney function and aid you in weight loss.
Buy baked ragi chips online at Healthy Master!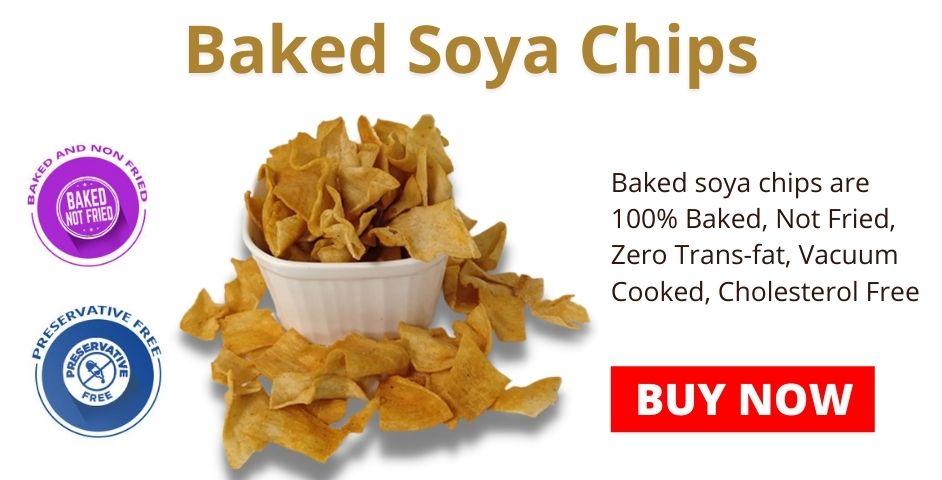 Soya Baked Chips: Rich in protein and fibre, Baked Soy Chips are the tastiest alternative to regular chips and something which boosts your body's health in a massive way. Consisting of 0 cholesterol, low calories and 0 trans fat, Soy Baked chips are a great snacking option especially for women as it is rich in plant based isoflavones that help in improving fertility.
Buy baked soya chips online at Healthy Master!
Baked Oats Chips: Now if you are someone who prefers health over anything then Baked Oats Chips is exactly what you need to add to your diet. Soft, crunchy and delicious, baked oats chips consist of a low glycemic index that helps in keeping your blood sugar levels in check and help you fight diabetes. Oats are also highly beneficial in lowering blood pressure and keep your heart healthy.
Buy baked oats chips online at Healthy Master!
Baked Jowar Chips: Another protein rich baked chips comes from the goodness of Jowar Millet, Jowar Baked Chips are another delicious treat that can help boost your body immunity while helping you in weight loss due to their low fat and calorie content. Baked Jowar Chips are rich in fibre, protein, carbohydrates and omega-3 fatty acids.
Buy baked jowar chips online at Healthy Master!
Dry Fruits Laddu (Best Readymade snacks)
When we said that it's not the food that is unhealthy but rather the ingredients that you use, we meant it. One such sweet dish that Healthy Master has made it healthy to eat is - Laddu. But we didn't use any oil, ghee or high amount of sugar to make it but we rather made it with the goodness of dry fruits and dates!
Made by using dates as the key ingredient to be used as gum filling, we used other dry fruits like pista, almond, walnut, and dry coconut to make an extremely crunchy and delicious sweet dish that is sure to make you forget about regular laddus. Made with the goodness of dry fruits, dry fruits laddu is rich in protein, healthy fats, carbohydrates, calcium and magnesium. Just one piece will fill your body with energy while helping your body improve its natural defence system.
Dry fruits laddu can help you keep your body warm and strong to fight cold infections like sore throat, cough, etc. while removing toxicity from your liver and help keep your cholesterol levels in check.
Nutritional value of Dry Fruits Laddu per 100g:
| | |
| --- | --- |
| Calories | 441 |
| Energy | 115kcal |
| Total Fat | 45gm |
| Saturated Fat | 11gm |
| Poly-unSaturated Fat | 7gm |
| Monounsaturated Fat | 5gm |
| Cholesterol | 0mg |
| Calcium | 12mg |
| Sodium | 11mg |
| Potassium | 157 mg |
| Magnesium | 10mg |
| Carbohydrate | 28gm |
| dietary fiber | 9gm |
| Sugar | 4 gm |
| Protein | 14gm |
| Vitamin D | 0% |
| Vitamin C | 0% |
| Vitamin A | 0% |
| Iron | 13%, |
| Vitamin B6 | 2% |
| Trans Fat | 0gm |
Table 5
Buy Dry Fruits Laddu online at Healthy Master!
Khakhra
Another traditional Indian snack that can be made in a lot of varieties depending on the ingredient you use. By using whole wheat flour and roasting it over an open flame, the result is a crispy, crunchy snack that is further garnished with a variety of spices and herbs to enhance its taste along with health benefits. Khakhra is a low calorie and low fat snack that is a delightful treat to eat with a warm cup of tea. You can either eat it spicy or non-spicy that is gluten free, rich with vitamins, contains high fibre and 0 cholesterol. Khakhra can aid you in weight loss while helping you fight diabetes.
Nutritional value of Khakhra per 100g:
| | |
| --- | --- |
| Calories | 498.9g |
| Fat | 25.1g |
| Monounsaturated fatty acids | 9.3g |
| Polyunsaturated fatty acid | 2.8g |
| Saturated fatty acids | 12g |
| Total carbohydrates | 62.8g |
| Dietary fibre | 4.5g |
| Total Sugar | 0.6g |
| Protein | 5.4g |
| Calcium | 8mg |
| Vitamin-C | 18.9mg |
| Sodium | 732.9mg |
| Iron | 1.8mg |
| Potassium | 265.1mg |
Table 6
Khakhra comes in a lot of varieties depending on the ingredient used such as:
Quinoa Coin Khakhra: The key ingredient of khakhra, that is whole wheat flour is replaced with Quinoa to make this unique and delicious Quinoa Coin Khakhra that is loaded with nutrients like extra protein and calcium.Gluten free and tasty to eat, Quinoa Coin Khakhra is rich in dietary fibre and antioxidants that help repair damage cells in your body and help it defend against disease-carrying microorganisms.
Buy Quinoa Coin Khakhra online at Healthy Master!
Methi Khakhra: A tangy and nutritious twist or regular whole wheat flour khakhra, by adding methi as a flavouring agent to a delicious snack, you not only get a low fat, low calorie snack to eat but also something that has increased medical benefits. Methi Khakhra is rich in antioxidants, fibre, and Vitamin K that helps in better regulation of red blood cells and lowering cholesterol.
Buy Methi Khakhra online at Healthy Master!
Oats Coin Khakhra: Replacing whole wheat flour with Oats, this variety of khakhra is a protein rich one that is rich in dietary fibre and loaded with essential vitamins like Vitamin B1, 2 and 3. Oats Coin Khakhra helps in weight loss, muscle building and controlling blood sugar levels.
Buy Oats Coin Khakhra online at Healthy Master!
Conclusion of Healthy Readymade Snacks In India
You are what you eat and a healthy snack is what it is made from. When a snack is made with ingredients that are used to provide the best of health boosting factors keeping in mind, then the resulting snack is something that you wish to eat more and more rather than avoiding it. Healthy Master shop is full of such unique and innovative snacks that you can add to your diet and enjoy without hesitation!