Blog
The Joy Of Health Conscious Diwali Gifts: Top 6 Products
by Mary James on Sep 17, 2023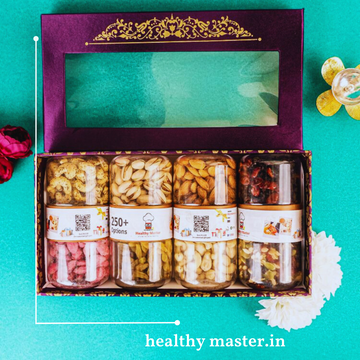 The Joy Of Health Conscious Diwali Gifts: Top 6 Products
Diwali, also known as the Festival of Lights, has a particular place in many people's hearts.
It stands for the victory of right over wrong and light over darkness.
During this time, candles illuminate the night, fireworks fill the sky, sweet treats are shared, and gifts change hands as part of the festivities. 
Even though traditional sweets and presents have always been a part of Diwali celebrations, there is currently a growing trend towards giving nutritious things as gifts to signify the value of prosperity and well-being during this auspicious season.
Priorities have changed noticeably in recent years, with a stronger emphasis on health and fitness. As a result, lots of people select Diwali presents that encourage wellness.
This trend towards healthy Diwali not only reflects changing lifestyles, but it also offers a meaningful means of expressing congratulations and requesting blessings.
Why Health-Conscious Diwali Gifts Matter?
Diwali is a season of joy, Celebration, and friendship.
It's a season when friends and family join together to share gifts and make special memories.
Diwali gift-giving is more than just a custom; it's a method to express affection, esteem, and goodwill.
Choosing healthy presents for Diwali is really important.
It represents our desire to improve the health and wellbeing of the people we value most.
A strong and considerate action is expressing care for someone's health in a society where health issues are becoming more common.
The Importance of A Health Conscious Diwali Gift
Promote Well-being
Good health, which is generally regarded as the most important form of wealth, is the cornerstone of a happy life. Giving healthy gifts during Diwali expresses your desire for your loved ones to grow spiritually and physically. It serves as a helpful reminder that happiness is the cornerstone of all success.
Healthy Diwali gifts actively work to avoid illnesses in a world where health problems are pervasive. These gifts can motivate recipients to adopt healthier habits and take charge of their health, which is entirely in keeping with the Diwali spirit.
2.
Harmonizing Tradition and Modern Values
The Diwali festival expertly blends heritage and contemporary culture.
Giving healthy gifts reflects the festival's long-standing traditions of sharing and giving while incorporating modern notions of health consciousness.
Diwali gift-giving has changed over the centuries to reflect shifting priorities and eras. This modification serves as an example of how culture and tradition may adapt to fit modern needs.
3. Promoting Awareness
In addition to giving recipients material items, giving healthy Diwali presents encourages them to make healthier decisions in their daily life.
These presents encourage healthy lifestyle adjustments, such as better eating habits, regular exercise, or mindfulness exercises.
Additionally, healthy presents enable fruitful conversations about wellbeing, allowing the giver to share knowledge and promote healthy lifestyle choices.
4. Leaving a Long-lasting Impact
Healthy Diwali gifts leave a lasting impression, in contrast to traditional presents that could be swiftly devoured. They promote long-term wellbeing and serve as a consistent reminder of the giver's consideration and care.
A strong emotional connection between the giver and the recipient is also fostered through healthy presents. They are prized mementos of love and goodwill because they represent the depth of the connection as well as the significance of health.
5. Personalization
Whether they are for wellness seekers, exercise fanatics, or people with dietary restrictions, healthy options can benefit every lifestyle. These gifts appreciate the diversity that Diwali symbolizes and reflect a multitude of lifestyles.
There is a healthy gift that is ideal for anyone's path, regardless of whether they are committed to mindfulness, physical fitness, or certain dietary goals.
6. Quality Assurance for Healthful Diwali Gifts
Both givers and recipients can rest easy knowing that Healthy Master is dedicated to quality. Their gifts are assured to uphold the highest standards of purity and safety thanks to the thorough testing these goods undergo with t
Presenting products from Healthy Master as gifts encourages confidence as well as good health. The gift's overall value and effect are increased because the person knows they are getting the highest quality.
7. The Eco-friendly Aspect of Healthful Gifts
The dedication of Healthy Master to environmentally friendly packaging is in line with the Diwali holiday's emphasis on environmental responsibility.
It indicates that health encompasses not just the well-being of an individual but also the health of the world.
Giving eco-friendly, healthy gifts encourages a wider sense of responsibility for sustainable living in addition to enhancing the recipient's own health.
It's a gift that reflects the ideals of contemporary well-being.
The Message Behind A Health Conscious Diwali Gifting
When you opt to give healthy gifts during Diwali, you are expressing your love, care, and best wishes with a strong message. "I wish you health, happiness, and prosperity," you are saying. Today's world, when health has properly taken center stage in our lives, is one in which this message is incredibly relevant and meaningful.
Diwali is more than simply a holiday; it's a chance to fortify ties, foster connections, and promote goodwill. Giving healthy products from Healthy Master as gifts encourages a culture of health and wellness while also improving the health of your loved ones.
Let's keep in mind that the joy of giving goes beyond worldly things as we celebrate Diwali. The thought, love, and intention that went into the gift are what matter. You are emulating the actual essence of Diwali—the spirit of light, love, and wellbeing—by selecting healthy Diwali presents.
Top 6 Products For Your Diwali Purchase
1. Nutri Fiesta Diwali Collection
Contents: Kismis, Pista, Khakra, Almond chocolates, Pan Chocolates, Baked Chips
This package offered by Healthy Master is packed with tons of mouthwatering, health-conscious snacks that work great with your tastebuds and provide the required nourishment for your body.
By providing you with the vitamins and minerals you need to fight against conditions like diabetes, heart disease, and other chronic illnesses, these snacks also help you stay healthier.
Additionally, they encourage good skin, increase energy levels, and help with weight management.
2. Radiate and Celebrate Package 
Contents: Cashews, Almonds, Kismis
This Diwali gift bundle is a terrific choice if you're searching for something straightforward, nutritious, and basic. A delightful selection of nutritious snacks that not only tempt your taste buds but also nourish your body from the inside makes up the Radiate and Celebrate Package, which Healthy Master has carefully curated. 
This carefully chosen assortment of cashews, almonds, and kismis has several health advantages. These snacks are full of essential vitamins and minerals that can help alleviate chronic diseases like diabetes and heart issues while also enhancing general health.
They also support radiant, healthy skin, aid with weight control, and provide you with a natural energy boost.
The Radiate & Celebrate Package certainly stands out as a powerhouse of wholesome and tasty snacking options for Diwali celebrations that are health-conscious.
3. Guilt Free Diwali Treats
Contents: Pista, Almonds, Cashew, Kismis, Premium Anjeer, and Apricot turkle

A celebration of flavor and good health, the "Guilt-Free Diwali Treats" box is filled to the brim with a delicious assortment of pista, almonds, cashews, kismis, quality anjeer (figs), and apricot Turkle.
These thoughtfully selected snacks are evidence that it's possible to indulge without feeling bad while simultaneously improving your health. This selection of nutritious goodies provides a range of crucial vitamins and minerals that can aid in the prevention of chronic diseases.
Whether it's the heart-healthy almonds, the energizing cashews, or the fiber-rich anjeer and apricot turkle, these delights are a wonderful addition to your Diwali celebrations.
With these delicacies, you can celebrate Diwali without feeling guilty or jeopardizing your health.
4. Wholesome Celebration Box 3 
Contents: Energy bar, Chocolate, Baked chips, Daily power booster, Seeds and berry sprinkle, Khakhra
The "Wholesome Celebration Box 3," which is filled with a delicious selection of energy bars, chocolates, baked chips, daily strength boosters, seeds, berry sprinkles, and khakhra, is your ticket to a celebration that combines flavor and wellness. 
With a variety of flavors to satisfy both your desires and your health-conscious side, this carefully picked assortment captures the spirit of wholesome enjoyment.
Every item in this package, from the energizing energy bars to the extravagant, soothing chocolates and the guilt-free baked chips, serves as a reminder that you may celebrate without compromise.
The pack gives your celebrations a boost of nutrition, and the khakhra adds a delightful crunch. With the "Wholesome Celebration Box 3," you can take pleasure in celebrations while also taking care of your body. 
5. Blissful Bite Box

Contents: Almond Premium, Cashew Premium, Daily Power Booster.
The "Blissful Bite Box," which includes a tasty trio of premium almond, cashew, and daily power booster snacks, captures the essence of unadulterated happiness in every mouthful. This carefully curated collection is evidence that simple pleasures can be both luxurious and healthy. Inside, you'll find the creamy richness of premium cashews and almonds, offering a lavish flavor experience.
When used with the daily power booster, this package is meant to add a splash of wholesome nutrition to your snacking moments. The "Blissful Bite Box" is a sweet reminder that even the littlest pleasures can bring us immense joy. By selecting these premium nuts and the daily power boost, you are consciously choosing to put your health first. Snack blissfully with this box that was expertly prepared.
6. Diwali Wonders
Content: Daily Powder Booster, Khakhra, Daily Fruits Chocolate, Energy Bars, Seeds and Berries Sprinkle, Mixed Berry, Baked Chips  
The "Diwali Wonders" package has a variety of daily powder boosters, khakhra, daily fruit chocolates, energy bars, seeds and berries sprinkles, mixed berries, and baked chips. It is a true gold mine of wellbeing and fun. This collection offers proof of the benefits of wholesome and pleasurable Diwali celebrations.
Each item in this package embodies a variety of flavors and nutrition, creating a delicious balance between flavor and health. Every element, including the energizing daily powder boosters, crispy khakhra, and daily fruit chocolates, is meant to give your Diwali a little extra glitz.
The energy bars provide you with a jolt of energy, while the mixed fruit seeds and berry sprinkles add a delightful flavor. By using the "Diwali Wonders," you can embark on a voyage of discovery while taking advantage of Diwali's many wonders, with an emphasis on happiness and wellbeing.
The mixed berry seeds and berry sprinkles provide a pleasant flavor, and the energy bars give you a boost of energy. With the "Diwali Wonders," you can set out on a discovery expedition while enjoying the wonders of Diwali with an emphasis on happiness and wellness.
Conclusion
Diwali is a moment to rejoice in the victory of good over evil, of knowledge over ignorance, and of light over darkness. Families get together during this time, homes are decorated with lamps, and delectable meals are exchanged. Additionally, presents are given and received as tokens of love and affection throughout this period.
With a focus on health and wellness, the tradition of sharing gifts during Diwali has altered recently. Giving healthy presents reflects our growing values and lifestyle, which place a high priority on health. Giving Healthy Master goods as gifts during Diwali is a heartfelt way to wish people well and spread health awareness among friends, family, and coworkers.
Frequently Asked Questions
1. What role may healthy Diwali presents play in fostering a culture of health and awareness within the family?
Giving healthy gifts at Diwali sets a good example for the family. Family members are urged to lead healthy lifestyles and make informed choices about their diet and health.
Gifts that support good health encourage conversations about happiness and provide opportunities to disseminate information about healthy living.
2. Can healthy Diwali presents be given to business clients?
Absolutely! A great option for business gifting around Diwali is a healthy present. They convey that they care about the wellbeing of their employees.
These gifts are thoughtful and valuable corporate Diwali gifts because they can be tailored to a company's wellness initiatives.
3. What are some benefits of choosing healthy Diwali gifts over the customary sweets and treats?
Making healthy gift selections for Diwali conveys a strong message of concern and wellbeing. It represents your desire for the physical and spiritual well-being of your loved ones. Giving healthy products as gifts is a kind and heartfelt act that perfectly embodies the spirit of Diwali in a world where health worries are becoming more common.
4. How can healthy Diwali presents encourage wellbeing and health awareness?
Giving recipients healthy Diwali gifts encourages them to make better choices every day.
These presents offer necessary vitamins, minerals, and nutrients, which can help prevent chronic illnesses like diabetes and heart issues. They also spark in-depth conversations on wellness and good living.
5. How can Healthy Master assure the high standard of their nutritious Diwali gift packs?
For the safety and purity of its products, Healthy Master is committed to following the strictest standards. Healthy Master's Diwali gifts are of the highest quality and are enhanced in terms of value and impact by strict evaluation and quality assurance procedures.
6. In what ways are healthy Diwali presents consistent with the principles of contemporary wellness and mindfulness?
Healthy Diwali presents represent the ideas of modern wellbeing and mindfulness by promoting healthy living and sensible lifestyle choices. They help recipients cultivate a sense of awareness and self-care by motivating them to take preventative steps for their wellbeing. The holistic approach to health and happiness that is valued more and more in the modern world is represented by these presents.
7. What message is sent to the recipient when healthy Diwali gifts are given?
Giving wholesome Diwali gifts conveys your love, concern, and best wishes. It conveys the desire for the recipient's financial success, pleasure, and good health. The true spirit of Diwali, which is the spreading of love and well-being, is captured in these gifts, which show that the best gift one can offer is the gift of health and happiness.
8. Are there any Diwali gifts that are suited for children or the elderly, or that are age-specific healthy gifts?
Yes, different age groups and tastes may be catered to while creating healthy Diwali gifts. You can provide entertaining and wholesome snacks for kids, while you can select foods for the elderly that are tailored to their particular dietary requirements or health objectives.
9. Can Diwali-themed decorations and presentations combine healthy Diwali gifts?
Certainly! You can include healthy Diwali presents in your presentations or decorations. For a festive and healthy display, you might, for instance, arrange them in attractive trays or include them in centerpieces.
10. How can I explain the concept of giving healthy things as gifts to my relatives and friends who may not be familiar with it?
You can quietly promote the idea of healthy gifting by detailing the benefits of such gifts. Inform them about the special features, mouthwatering flavors, and health benefits of healthy Diwali foods. During Diwali, promote open dialogue and draw attention to the expanding trend of health-conscious gifts.
11. Can those with dietary limitations or allergies receive healthy Diwali gifts?
Absolutely! Customizable healthy Diwali gifts are available to satisfy dietary restrictions and allergies. Many vendors of healthy presents include a variety of options, such as vegan, gluten-free, and nut-free options, making sure that everyone may enjoy these considerate gifts while adhering to their dietary restrictions.