Blog
The Significance of Diwali Gifts and the Joy of Gifting
by Mary James on Oct 06, 2023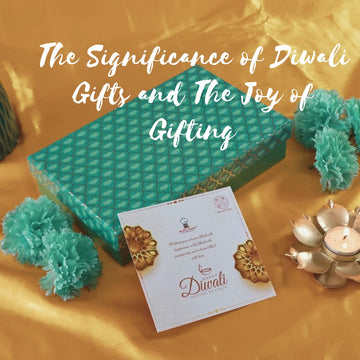 The Significance of Diwali Gifts and The Joy of Gifting
Deepavali, usually referred to as Diwali, is one of the most widely observed celebrations on the Indian subcontinent and has significant historical and cultural ties. The cheerful celebration of light triumphing over darkness at this holiday, which is also known as the "Festival of Lights," crosses national boundaries and religious barriers.
Diwali's origins are intricately entwined with Hindu mythology, and they may be traced back to ancient India. Beyond its religious roots, Diwali has developed into a complex cultural event that encompasses a variety of faiths, including Jains, Sikhs, and Buddhists, each of whom observe the holiday for a unique purpose.
Diwali essentially acts as a reminder of the timeless principles of good triumphing over evil and light over darkness. This event unites individuals across religious lines and promotes optimism, hope, and rebirth.
Discover the elaborate rituals, entrancing decorations, and warm embrace of family and community that make Diwali a wonderfully cherished and culturally significant time of the year as you explore further into the celebration.
The Tradition Of Exchanging Gifts During Diwali And Its Roots
Gift-giving at Diwali is a treasured custom with significant cultural and emotional undertones. Family, friends, and even strangers can express their love, excitement, and goodness through it in profound ways.
This custom, founded on the principles of sharing joy and fortifying relationships, is essential to the festival's comforting atmosphere.
The idea that the act of giving is just as meaningful as receiving is at the heart of Diwali gift-giving. It stands for the desire to spread one's riches, blessings, and abundance. Homes will be decked out with festive decorations and exquisitely wrapped gifts throughout this time, creating an aura of joy and anticipation. 
The act of selecting, wrapping, and presenting presents is a method to express gratitude and love for close friends and family, enhancing the community spirit that Diwali symbolizes.
In Indian culture, the custom of exchanging presents during Diwali dates back centuries. It is thought to have sprung from the legend of Lord Krishna, who loved to give presents and sweets to his friends and loved ones. 
The custom of sharing presents during Diwali has historical and religious significance, but it also has current value in fostering relationships and promoting joy. It gives you a chance to show how much you cherish and care about the people in your life.
Traditional presents like candy, Diyas (oil lamps), and apparel can be given, as well as more contemporary items like jewelry, technology, and personalized symbols of appreciation. Whatever the cost of the gift, it's the thought that goes into it that counts, forging bonds of affection and intimacy between loved ones.
In summary, the custom of distributing presents at Diwali is a lovely manifestation of love, joy, and harmony. It fosters community and embodies the festival's primary principles of spreading light, optimism, and compassion. 
As you participate in this endearing custom, keep in mind that the joy of giving extends beyond monetary goods to the delight of spending time with your loved ones and fortifying the ties that make your life richer during this auspicious festival of lights.
The Types Of Diwali Gifts
The sharing of presents takes front stage during Diwali, the festival of lights, as a sign of love and happiness. As different as the people who exchange them, Diwali gifts are made to suit a wide range of interests and inclinations. There is a Diwali gift for everyone, regardless of whether you favor traditional offerings or more contemporary gifts.
Sweets And Diyas
Traditional presents for Diwali frequently contain a variety of mouthwatering sweets and exquisitely made Diyas (oil lamps). During the celebrations, sweets like ladoos, barfis, and gulab jamun are standard fare. 
These delicious delicacies stand for life's sweetness and the joy of fellowship. However, Diyas have a special importance since they stand for the victory of light over darkness. Giving these gifts not only makes individuals happy but also makes the atmosphere more festive.
Ethnic Clothing and Jewlery
Ethnic clothing and jewelry are a popular category of Diwali presents. You can think about giving a loved one a lovely saree or kurta so they can dress in traditional attire for the occasion.
Similarly, accessories like necklaces, earrings, and bracelets give a touch of elegance and have the potential to become cherished heirlooms. These presents contain sentimental importance in addition to improving one's Diwali costume.
Home Accessories And Decor
These are popular presents that people enjoy getting. You can choose from a variety of home décor options for Diwali, including elaborately created rangoli sets, eye-catching wall hangings, and handcrafted puja thalis (ritual trays). These presents add to the celebratory atmosphere and can be treasured as mementos.
Electronics And Modern Gadgets
In the current era, Diwali gifts like electronics and modern gadgets have gained popularity. Items like smartphones, tablets, headphones, and smart home appliances fall under this category. Such presents appeal to the tech-savvy audience and improve the comfort and enjoyment of their life.
Personalized Presents
In recent years, personalized presents have become more popular as a way to provide a more personal touch. From photo frames and calendars to engraved jewelry and monogrammed accessories, a wide variety of products are available for customization. Gifts that are personalized show concern and caring, making the receiver feel very special.
Gift cards And Vouchers 
These gifts are useful in situations where you are unsure of the receiver's preferences. These provide the receiver the freedom to select the products they want, whether it's clothing, electronics, food, or entertainment.
Due to the variety of Diwali presents, you may discover the ideal gift for each of your loved ones, suited to their preferences and passions. The act of giving during Diwali improves relationships and spreads joy, making the occasion even more special.
You can choose to follow the time-honored custom of presenting sweets and Diyas or explore the modern world of technology and personalized gifts.
Top 3 Diwali Gift Ideas
An introduction to a health-conscious lifestyle this Diwali is a terrific place to start. There are countless ways to celebrate Diwali, but choosing an approach that improves your surroundings and shifts people's perspectives for the better is an excellent choice.
Let's examine some of Healthy Master's best Diwali gift suggestions.
Your go-to snacking partner, the Healthy Harvest Hamper has been thoughtfully chosen to satisfy your desires while encouraging a healthier, more balanced lifestyle. You'll find a range of delectable foods that are not only delicious but also healthy for your body in this wonderful hamper.
When your sweet tooth cries out, you'll find yourself grabbing the assortment of cookies. These cookies fulfill your sweet tooth without jeopardizing your well-being because they are made with healthy ingredients.
Bhakarwadi, a savory Indian snack, gives your snack time a fun new twist. You'll enjoy the way the gram flour, spices, and seeds combine to produce each bite satisfyingly crunchy and tasty.
It's the ideal addition to your evening tea or as a snack at any time. You also get an energy boost from millet snacks, a nutritious powerhouse, that lasts you the entire day. In addition to being delicious, they are also a great source of vital nutrients that will keep you healthy.
The baked chips come in to fill your appetite when you long for the traditional crunch of chips. They provide the same delightful crunch without the added calories and fat, making them a healthier option.
The ancient Indian flatbread known as khakhra is a versatile snack food. You'll savor its crispy texture and healthy deliciousness whether you eat it alone or with spreads.
The energy bar is a high-energy treat that blends nuts, seeds, and unrefined sugars to keep you going through your busy days. Enjoy the decadent flavor of dry fruit chocolate, a delicious combination of luxury and nutrition. With this delight, you may enjoy chocolate guilt-free and gain the health benefits of dried fruits.
To increase the nutritious content of your meals, top them with seeds and berries. This mixture gives your food a healthy touch, whether it is added to salads or yogurt. An explosion of antioxidants and natural sweetness is provided by mixed berries. You'll appreciate including them in your regular routine as a delicious and healthy snack alternative.
The hamper includes high-quality cashews and almonds for when you want to snack on nuts. In addition to being delicious, these nuts also contain important vitamins, healthy fats, and protein.
With the daily power booster in the hamper you can get your day going. The purpose of this special concoction of superfoods and supplements is to improve your general health and vigor.
You will also find a set of festive lights in the hamper to give a little sparkle to your surroundings. These lights stand for the brightness that results from leading a healthy lifestyle.
You are the focus of the Healthy Harvest Hamper, including your cravings, general well-being, and efforts to become a healthier version of yourself. It's the ideal method to strike a balance between your commitment to health and your desire for flavor thanks to its extensive assortment of nourishing and delectable snacks.
So go ahead, savor each delight, and let the joy of mindful munching shine into your life.
The Diwali Revive Basket offers a wonderful selection of snacks and goodies to make your Diwali celebrations even more unique and health-conscious. This considerate gift mixes the best of modern, healthful treats with the spirit of traditional Diwali munchies.
The mouthwatering Baked Chips are the first thing you'll notice when you open the basket. The ideal crunch you're looking for is definitely present in these chips but with a healthier twist. With the knowledge that they were created with your well-being in mind, you may enjoy them guilt-free.
The Bhakarwadi, a traditional Diwali snack, is the next item on the menu. It's the perfect addition to your Diwali buffet because it's a delicious combination of spices and gram flour.
Your Diwali celebration will benefit from the nutritional content of millet snacks. They offer a healthy substitute for conventional snacks, allowing you to enjoy every mouthful while keeping your taste buds and body in mind.
A wholesome addition to your cupboard is the Seeds & Berries Sprinkle. You can sprinkle it on everything from salads to yogurt to add flavor and nutritional benefits to your meals.
Khakhra, a typical Indian flatbread, gives your holiday meal a genuine touch. Not only is it a delectable snack, but it also goes well with a variety of dips and spreads. The Energy Bar will provide you with a fast energy boost while the festivities are going on. It has natural sweeteners, nuts, and seeds and is made to keep you energized and active.
To help you perform at your peak throughout Diwali, there is a special edition called the Daily Power Booster. It consists of a combination of superfoods and vitamins meant to improve your general well-being.
A delicious combination of luxury and nutrition, Dry Fruits Chocolate is included in the basket because Diwali is also a time for indulgence. You may enjoy the decadent flavor of chocolate while also reaping the health benefits of dried fruits.
A Premium Candle is also included in the Diwali Revive Basket to help you prepare for your celebrations. For you and your loved ones, this candle lends a touch of refinement and coziness to your Diwali celebrations.
The Diwali Revive Basket reflects your desire for a more fulfilling and healthy Diwali. The festival of lights can be celebrated with joy, excellent health, and a dash of elegance thanks to this blend of tradition and wellness. 
The Radiant Health Hamper was created with you in mind. It aims to improve your health and infuse a little elegance into your daily life. You'll find a variety of excellent ingredients in our carefully picked collection that are not only delicious but also packed with health advantages.
In order to guarantee the best quality and flavor, the almonds are hand-selected. Almonds are recognized for having an extensive nutritional profile that includes important minerals including vitamin E, good fats, and antioxidants. You can enjoy each almond with the knowledge that you're giving your body the best of nature.
The creamy texture and delicate flavor of the Cashew Premium make them a true pleasure. You are treating yourself to a serving of heart-healthy monounsaturated fats, vitamins, and minerals when you eat these cashews.
You will enjoy the great taste and nutrients they provide to your life, whether you snack on them by themselves or use them in your culinary creations. Known for its creamy texture and delicate flavor, the Cashew Premium is a real delight.
Enjoying these cashews will reward you with a serving of heart-healthy monounsaturated fats, vitamins, and minerals. You will love the superb flavor and nutrients they provide to your life, whether you munch on them by themselves or use them in your culinary creations.
The Kismis Premium is also a delicious and guilt-free snack that is bursting with natural sweetness and antioxidants. They can be used in breakfast dishes, desserts, or just as a snack because of their limitless adaptability.
The Radiant Health Hamper is a celebration of your commitment to health and wellness, not merely a selection of high-quality products.
Verdict
Festival celebrations offer a significant chance to deepen ties and promote a feeling of community among family, friends, and loved ones. They are not just about rituals and customs.
Giving gifts is among the most endearing methods to accomplish this. During the holiday season, giving and receiving gifts goes beyond simply exchanging monetary goods; it also expresses love, gratitude, and the value of your relationships.
Giving is a practical way to show your feelings. It conveys your concern for them, your appreciation of their contribution to your life, and your desire to make them feel unique. 
Additionally, selecting a present is a chance to demonstrate your familiarity with the recipient. It illustrates how well you comprehend their tastes, passions, and goals. By choosing a gift with care, you show that you are trying to get to know them personally and respect their individuality.
Giving brings forth an equally strong joy. It provides a great deal of happiness and fulfillment. It's a sheer joy to see someone's face light up when they open a nice gift you meticulously selected. It serves as a reminder of the beneficial effects you can have on one another.
Giving has the amazing power to generate enduring memories. Festival gifts frequently end up becoming treasured keepsakes with sentimental value. These mementos act as a reminder of the affection and camaraderie that were exchanged during those joyful times.
Most importantly, gifting makes the connections between you and your loved ones stronger. Everyone involved is reminded of the value of friends and family in their lives, which furthers the feeling of unity. It promotes a sense of community and camaraderie that goes beyond the actual material value of the gift.