Blog
5 Easy Karwa Chauth Recipes Meals, Snacks, and Sweets
by Mary James on Oct 31, 2023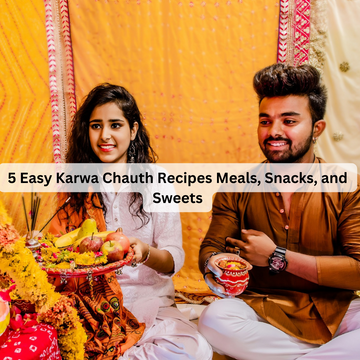 5 Easy Karwa Chauth Recipes Meals, Snacks, and Sweets
Karwa Chauth is a significant Hindu event observed by married ladies throughout India. It entails fasting from daybreak to moonrise for the sake of their spouses' health and longevity. The day is full of rituals, prayers, and excitement over seeing the moon.
While fasting is an important component of this event, the moonrise, which marks the completion of the fast, is the day's great climax. Preparing delicious and nutritious meals is essential to making this auspicious day even more memorable. 
In this article, we will look at 5 easy Karwa Chauth recipes that include meals, snacks, and sweets to make your day more enjoyable.
Top 5 Meals, Snacks and Sweets 
1. Dahi Vada
A delicious option for a Karwa Chauth feast is dahi vada. Not only are these tender lentil based dumplings drenched in smooth yogurt amazing, but they're also quite simple to make. 
Ingredients
For Dahi Vada
1 cup urad dal (black gram)

1/4 cup moong dal (split green gram)

2 green chilies, finely chopped

1 inch piece of ginger, grated

Salt to taste

1/2 tsp cumin seeds

Oil for deep frying
For Tempering
1/2 cup fresh yogurt (dahi)

1/2 cup milk

1/2 cup sugar

1/2 tsp roasted cumin powder

A pinch of red chili powder

Chopped coriander leaves for garnish
Instructions
Soak moong and urad dal separately for 4–5 hours, and then crush them together with cumin seeds, ginger, and chilies to make a smooth batter. While mixing, add the salt.

In a deep pan, heat the oil. Using wet hands, put a tiny amount of batter into the heated oil. Fry until browned all throughout. Take out and let dry on paper towels.

For half an hour, soak fried vadas in warm water. Gently squeeze out any extra water.

Smoothly stir yogurt, milk, and sugar together in a bowl. Put the vadas in the yogurt mixture and refrigerate for two to three hours to allow them to soak.

The soaking vadas should be served by plating them, drizzling them with yogurt, and adding chopped coriander leaves cumin, and red chili powder as garnish.
2. Sabudana Kheer
A delicious and creamy dessert to break your Karwa Chauth fast is this Sabudana Kheer. Savor the cozy and rich flavors of it.
Ingredients
For Kheer
1/2 cup sabudana (tapioca pearls)

4 cups milk

1/2 cup sugar

1/4 teaspoon cardamom powder

A pinch of saffron strands (optional)

A handful of chopped nuts (cashews, almonds, pistachios)
For Garnish
A few more saffron strands

Chopped pistachios and almonds
Instructions
Give sabudanas a thorough rinse before soaking them in one cup of water for roughly two hours.

Heat the milk to a boil in a pan with a sturdy bottom. Simmer it for a little while till the heat has reduced.

After draining, add the soaked sabudana to the milk that is simmering. Stir from time to time to avoid sticking.

Simmer for 15 to 20 minutes, or until the sabudana pearls become translucent.

Stir in the saffron threads, sugar, and cardamom powder. After giving it a good stir, heat for a further ten to fifteen minutes, or until the kheer thickens.

The chopped nuts should be gently roasted in a different pan.

Take the kheer off the fire and allow it to cool after it reaches the appropriate consistency.

Add the roasted nuts and saffron threads as garnish.
3. Amaranth (Rajgira) Ladoo 
Rajgira (amaranth) ladoos are a tasty treat. These healthful and tasty snacks will satisfy your hunger.
Ingredients
For Ladoos
1 cup Rajgira (amaranth) flour

1/2 cup powdered jaggery

1/4 cup desiccated coconut

1/4 cup ghee (clarified butter)

1/4 cup mixed nuts (almonds, cashews, pistachios), finely chopped

1/2 tsp cardamom powder

A pinch of saffron strands (optional)
Instructions
Rajgira flour should be heated and dry roasted over low heat for a few minutes, or until a nutty scent emerges. Let it get cold.

Add the ghee to the same pan and melt it. Incorporate the jaggery and continuously whisk until it melts.

Add the saffron strands, cardamom powder, chopped nuts, desiccated coconut, and roasted Rajgira flour to the jaggery ghee mixture. Mix everything thoroughly.

Let the mixture cool down a little. Using oiled hands, mold tiny pieces into circular Ladoos while still warm.

Before serving, let the Ladoos settle for a few hours.
4. 

Baked Sweet Potato Chaat

Instead of deep frying sweet potatoes, bake them until they are crispy on the outside. It will definitely entice your taste buds and keep you full and energized throughout this unique event.

Ingredients

For the Sweet Potatoes
 2 medium sweet potatoes, peeled and cubed

 2 tablespoons olive oil

 1/2 teaspoon cumin powder

 1/2 teaspoon red chili powder

 Salt to taste
For the Chaat
 1 cup boiled and diced chickpeas

 1/2 cup diced cucumbers

 1/2 cup diced tomatoes

 1/4 cup finely chopped red onions

 2 tablespoons chopped fresh coriander leaves

 2 tablespoons tamarind chutney

 2 tablespoons green chutney (coriander and mint chutney)

 1/2 teaspoon chaat masala

 1/2 teaspoon roasted cumin powder

 A pinch of red chili powder (optional)

 Juice of 1 lemon
Instructions
Set the oven temperature to 400°F, or 200°C.

Combine olive oil, red chili powder, cumin powder, and a small amount of salt with the sweet potato cubes. Arrange them on a baking sheet and roast for twenty to thirty minutes, or until they become soft and crunchy on the edges.

Combine the boiling chickpeas, tomatoes, red onions, cucumbers, and roasted sweet potatoes in a large mixing dish.

Pour the green and tamarind chutneys over the mixture.

Garnish with red chili powder, chaat masala, and roasted cumin powder (if using). Add some lemon juice on top.

Gently combine all the ingredients, ensuring that they are thoroughly covered in the spices and chutneys.

Add some fresh coriander leaves as a garnish.
5. Suji Ka Halwa (Semolina Pudding) 
Suji Ka Halwa, commonly known as Semolina Pudding, is a quick and comforting Karwa Chauth sweet dish. 
Ingredients
1 cup suji (semolina)

1/4 cup ghee (clarified butter)

1 cup sugar

2 cups water

1/2 teaspoon cardamom powder

A handful of mixed dry fruits (almonds, cashews, and raisins)

A pinch of saffron strands (optional)

A few slivers of pistachios for garnish
Instructions
Ghee should be heated in a pan, then suji should be added and roasted over low heat until golden and fragrant with nuts. Stir continuously to avoid scorching.

To produce sugar syrup, heat sugar, and water in a separate saucepan. Turn off the heat once the sugar has dissolved completely.

To prevent lumps, slowly pour the sugar syrup into the roasted suji while stirring constantly.

For a beautiful color and scent, add saffron threads and cardamom powder.

Toast the dried fruits in a little ghee in a different pan until they get brown.

Mix thoroughly after adding the roasted dry fruits to the halwa.

Cook it for a few more minutes, or until the halwa and ghee separate.

Add some pistachio slivers as a garnish.
Take away
Karwa Chauth is a holiday dedicated to devotion, reflection, and family. Choosing nutritious food adds to the importance of this particular day. Visit Healthy Master for offers on innovative and nutritious meals for festive occasions, such as Karwa Chauth.