Blog
8 Healthy Gift Basket Ideas for Corporate Companies
by Shopify API on Sep 03, 2021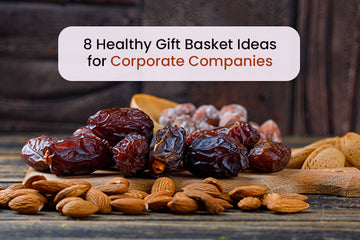 A healthy gift basket is ideal for corporate companies to reward employees with a wide range of items including snacks. Moreover, it provides ways to market a brand to clients that help increase sales significantly. On the other hand, corporate firms should know what to include in their healthy gift baskets that will help employees and clients to focus more on their objectives. Some of them include chips, sweets, cookies, snacks, chocolates, and foods that will help keep health in perfect condition.
Here are some ideas corporate companies can consider when they want to present a healthy gift basket.
1. Baked Oats Chips
Baked oats chips are the right choice for a healthy basket because they are rich in vitamins and other ingredients. They aid in weight loss, blood sugar control, low cholesterol level, skin health, and heart health.
2. Multi Millet- Palm Sugar Cookies
Multi Millet Palm sugar cookies are rich in fibers and other nutrients which aid in the weight loss process. The cookies contribute more to improve blood sugar control and cholesterol levels allowing a person to live a healthy lifestyle.
3. Mixed Dried Berries
Mixed dried berries are delicious snacks made from fresh sun-dried berries that will help improve health conditions to a large extent. They provide ways to fight inflammation, lower cholesterol levels, and improve blood sugar content. The snack is also a combination of blackberries, cranberries, and blueberries that give ways to control health complications.
4. Prunes
Prunes are dried fruits that contain a high level of vitamins and other nutrients. Also, they are high in dietary fiber that aid in digestive health. Another thing is that they show ways to build immunity and improve bone health by addressing the essential needs of a person.
5. Apricot Reds
Apricots red are a good source of vitamins and other nutrients that offers several benefits to a person. Some of them include anemia prevention, blood pressure optimization, immunity improvement, and so on.
6. Cashew Tukda
Cashew Tukda is well-packed with minerals, antioxidants, vitamins, and other nutrients that are essential for a healthy life. It is one of the best gifts available for corporate companies to include in a gift basket.
7. Makhana Plain
Fox nuts, also known as Makhana, make a perfect snack and one can roast them with other spices. Although several custom corporate gifts are available in the markets, presenting a healthy gift basket will help employees and their families in various ways. A healthy gift basket also gives ways to build better relationships that help achieve high productivity in workplaces.
8. Brazil Nut
Brazil nut is rich in selenium and other nutrients that will help improve heart health to a large extent. It is one of the best healthy snacks which reduce inflammation issues. The healthy corporate gifts online are suitable for promoting the wellness of employees that will help improve their fitness levels. Apart from that, they show ways to customize them based on the choices to create a better impression on customers.