Blog
8 Tips to Buy Dry Fruits Online
by Shopify API on Sep 03, 2021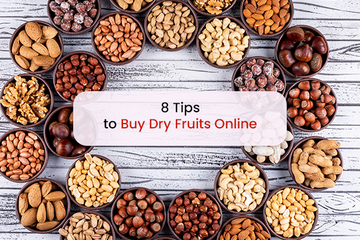 Dry fruits are the best option for enhancing the quality of life to a great extent. Anyone who wants to stay away from health hazards should consider consuming them because they are rich in various nutrients. Nowadays, online shopping is gaining popularity because it gives ways to order products with ease. However, those who want to buy dried fruits online should consider certain things to ensure great shopping.
Things to follow while buying dry fruits online
1. Quality
Quality is the first factor to keep in mind while ordering dry fruits from an online store. This is because no one knows about the processing techniques in detail. Sun-drying, solar drying, and freeze-drying are some of the techniques used in dry fruit manufacturing to get the desired outcomes. Therefore, it is essential to give more importance to the quality during the ordering process. Fruits that use freeze-drying have better quality allowing customers to ensure a great taste.
2. Knowing ingredients
Before buying dry fruits online, one should consider knowing ingredients that will help make the right decision. Dry fruits that are having more sugar may cause some harmful effects to people after consuming them. Some fruits come with a little quantity of oil which contributes more to add fats. It is wise to purchase dry fruits which don't have any additives.
3. Checking the availability of dry fruits
Customers should check the availability of dry fruits before ordering them online. A person should evaluate the status of products when buying them. Consuming dry fruits in afresh conditions can help improve health conditions. Hence, is wise to know the availability of foods with more attention.
4. Choose the right store
Not all online stores are the same and customers should analyze them to choose a store that tailors to their needs. It is necessary to read reviews of stores that can help to get more ideas.
5. Delivery
While ordering online dry fruits, customers should know the delivery options offered by a store in detail. As most shops follow different delivery slots, one should know them to receive dry fruits on time.
6. Prices
People should compare the prices of dry fruits provided by multiple stores online that will help buy them at discounted rates. By doing this, they can reduce the expenses during the ordering process.
7. Customer service
A person should make sure that an online store offers customer support when buying online dry fruits. This will help a lot to get more details about products and other things that will help make a successful purchase.
8. Terms & conditions
The terms and conditions may vary from one online store to another online store in a location. Customers should read them when they like to purchase the best dry fruits online without any hassles. Furthermore, they can avoid disputes after placing an order.
9. Return policies
Customers should know the return policies when they receive dried fruits in a damaged condition. Apart from that, it gives ways to get back the fruits as soon as possible to witness complete satisfaction.