Blog
Best Diwali Corporate Gift Ideas - Healthy Master
by Shopify API on Sep 23, 2021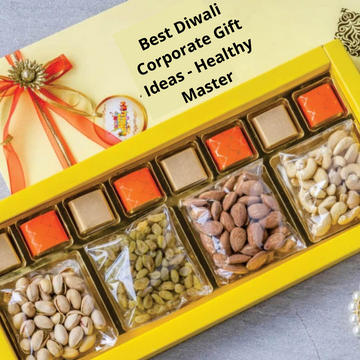 Diwali Corporate Gifting is the most suitable idea to cherish the relationship between an organization and its employees. All companies whether big or small feel amused to present various kinds of gifts to their clients and workers at the auspicious Diwali festival. Corporate gifting nowadays is measured as a compilation of aesthetic appeal and utility. It is also good to know that such gifts are cost-effective as well as memorable. It comes with a benefit for any company as you can use it for the marketing of your services and products. Goodwill and the brand image of the firm can also get improved in the public with the initiative of Diwali Corporate Gifting.
Diwali Corporate Gifting
Healthy Master is taking their hands into creating some innovative personalized gift ideas which you can present to your employees to earn a smile on their faces. This will not only be a satisfaction for the employees but for the organizations as well. While thinking of a gift idea, why not go for something healthy and delicious both? And when the team members will stay fit all along, the growth of the company and its efficiency will also remain sustainable. It can be gifted as a symbol of acknowledgment for their work done with all their efforts throughout the year. An organization's reputation in the eyes of its workers can get boosted in an effective manner. It is just a little effort to show gratitude and respect towards your clients, associates, partners, and workforce. Showing your caring side to them is a cherry on the cake for generating happiness all over.
The most essential part now is to decide on some innovative and attractive gifts for the employees. The idea of a gift should be meaningful as it belongs to the corporate sector. Gift packaging or you can say that corporate gift packaging tells so much about its worth and its value. 'A sweet gift gesture is incomplete without a sweet packaging'. Extra thought and an extra effort can be made in gift packaging as per the festival can be very impressive. Healthy Master provides some great and creative ideas and thoughts for packing your corporate gifts for every occasion in the form of beautiful gift wrappers, ribbons, colorful papers, and other decorative designs. We have many appealing options to make the gift out of the box as compared to other basic gift packages. We have an expert team for packaging who has an awesome sense of design. They use their manufacturing ideas and techniques to satisfy the employees with some amazing gift boxes that can set an example of your corporate value. It also helps in gaining and delivering a fine brand message or thought to all your customers and partners. With a good budget, you can also opt for custom-made gift boxes with some unique picture or color printing on the package. Diwali is all about lights and our gifts are created with a motive to enlighten the hearts of the employees.
Corporate Gift
A corporate gift is a wonderful idea of sending a gift on various occasions by your company and also to promote your business. The recipient of your lucky gift can be your vendor, client, prospect, partner, or customer. It might extend to such people's families too. Giving corporate gifts can also strengthen the activities of the business which can automatically maximize the investment returns. It can be presented or delivered to the clients by courier service or directly. It is a process that can be used to build an emotional and strong bond between the company and its clients. Nowadays, corporate gifting is a vital part of the corporate culture. It must be remembered for the message of concern it delivers and not for just its monetary value.
Entering the corporate world is like entering a busy schedule that means maintaining work-life balance can become a little difficult. When it comes to any festive occasion or after work, serving the guests is very important. On Diwali, the idea of presenting dry fruits and Millet snacks can prove to be a great Dry Fruits Gift Box. They provide health benefits as well along with being super delicious. Millets are used to add sweeteners naturally while making desserts and are rich in proteins. The snacks are best for our health and are versatile and easy snacks. They are tasty and nutritious and have easily digestible high-level carbohydrates along with other nutrients such as magnesium, copper, zinc, and vitamin 1, 2, E, and 6. On the other hand, dry fruits contain many vitamins, fibers, minerals, carbohydrates, proteins, and antioxidants. This is why it is everyone's favorite snack. After finishing the workout sessions, people feel famished and look for something to boost their energy so they particularly depend on dry fruits. Apart from this, our nervous system's health can be maintained by consuming our products.
Healthy Master provides specialized, stylish, and inventive corporate gifts that match the needs of every individual. We supply and manufacture a variety of corporate items that can be used as a gift by the firms. Our professional staff can help you choose your suitable personalized gift as per your requirement and budget. Healthy gifts in the box of Millets and dry fruits can assure the good health of your close ones. They are full of carbohydrates and fats and do not contain any kind of chemicals that can harm your health in any way possible. The products offered by us have high market demand as our focus is on a good finish, cost-effective products, and healthy service.
The utmost goal of our enterprise is the satisfaction of our clients and customers and to guide them in providing innovative gifting solutions. Whether it is the occasion of Diwali or some other festival, each and every celebration should be fruitful and healthy for the workforce and their company. The portal of Healthy Master is there to get the best and suitable corporate gift ideas for all your near and dear ones.