Blog
Can I Eat Rice After Workout? 10 Healthy Snacks to Eat After a Workout
by Mary James on Nov 09, 2023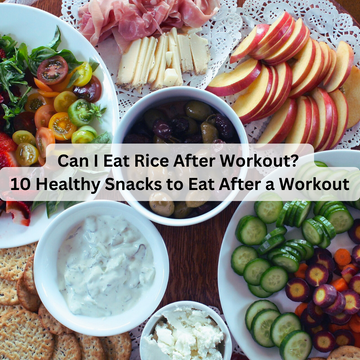 Can I Eat Rice After Workout? 10 Healthy Snacks to Eat After a Workout
Rice stands out as a diverse and nutritious choice among the many post-workout food options. Especially when you've just finished a tough weightlifting session or a strenuous aerobic activity, rice supplies your body with glycogen, which aids in its recovery. However, since there are so many other healthy snack options that are higher in carbohydrates, rice is a less nutritious option to consider. 
As white rice contains a high glycogenic index, this can quickly spike your blood sugar levels. This short-lived surge might lead to a subsequent energy collapse, so avoiding rice would be a great option.
Your body needs nutrition to repair and recuperate after a strenuous exercise session. There are several other healthy snack options that you can consider that help with this process, other than rice. These ten delicious post-workout snacks include a variety of vital nutrients to help your body recover post-workout.
10 Healthy Snacks To Eat After a Workout
Post-exercise nutrition has a significant impact on the way your body responds to physical activity and what it is capable of. Also, note that the snacks mentioned below are rich in carbohydrates, which are converted into glycogen upon consumption.  Let's look at the top 10 healthy snack options.
1. Berries and Plain Greek Yoghurt 
Berries and plain Greek yoghurt create a tasty and healthy post-workout snack. The yoghurt is high in protein, which aids in muscle repair, and the berries are high in antioxidants, which help to battle exercise-induced stress.
They combine to make a delightful combination that satisfies your sweet tooth while also refuelling your body. Whether it's blueberries, strawberries, or raspberries, you can combine them with yoghurt for a sweet and healthy treat that's simple to prepare.
2. Banana with peanut butter
A banana and peanut butter snack is an excellent post-workout snack. The banana provides a rapid infusion of natural sugars and potassium to help avoid muscle cramps, while the peanut butter provides an adequate supply of healthy fats and protein to aid with recovery and fullness.
The combination is not only delicious but also filling, making it an excellent choice for post-workout refuelling. Simply slice a banana and spread it with peanut butter to make this sweet and healthy treat.
3. Sunflower Seeds 
Sunflower seeds make an excellent post-workout snack. Sunflower seeds are high in protein and healthy fats, which aid in muscle regeneration.
You can combine sunflower seeds with dates to create a sweet and savoury combo that is both pleasant and wholesome. Simply pack a few dates with sunflower seeds for a quick, easy, and naturally delicious post-workout energy boost.
You can add sunflower seeds to your podis, salads, chutneys, and parathas.
4. Trail mix
Trail mix makes a fantastic post-workout snack. It's a well-balanced blend of nuts, seeds, dried fruits, and occasionally a hint of chocolate, with a mix of carbohydrates, healthy fats, and protein to keep you going.
The diversity of components provides both rapid and prolonged energy, making it a tasty and convenient post-workout solution. It's also portable, so you can take it with you for a quick post-exercise replenishment whether you're hiking, going to the gym, or on the run.
5. Paneer Avocado Toast
A great post-workout snack is paneer avocado toast. Avocado adds fibre and healthy fats, while cottage cheese packs a protein punch for muscle repair. They combine to make a creamy and delicious topping for whole-grain toast.
This snack is not only tasty but also quick to make. Spread the creamy mixture on bread, season with salt and pepper, and you've got a nutrient-rich delight that will refresh your body while keeping you feeling full and content.
6. Apples With Peanut Butter 
Apples with peanut butter are a wonderful post-workout snack. Apples provide natural glucose for rapid energy as well as fibre to keep you full, and peanut butter provides protein and healthy fats to aid in muscle repair. 
The mixture is both sweet and salty, resulting in a delightful and easy-to-make treat. Simply slice an apple and spread it with peanut butter for a delightful, nutrient-rich snack that will help you refuel and prevent post-exercise hunger.
7. Baked Quinoa Chips 
Baked quinoa chips make an excellent post-workout snack. They're not only delicious, but they're also high in protein and fibre, which aid in muscle regeneration and satiate hunger. 
These crispy snacks, unlike typical chips, are guilt-free, providing complex carbs and a delightful crunch. With a variety of tastes and a pleasant texture, they create a delectable and nutritious treat to enjoy after a workout, allowing you to refuel guilt-free.
8. Almonds
Almonds make a great post-workout snack since they are packed with protein, healthy fats, and important vitamins and minerals. They're ideal for muscle healing and maintaining energy levels. 
Furthermore, their natural crunchiness and portability make them a convenient alternative to keep in your gym bag. A handful of almonds can offer your body the nutrition it requires after a workout while still being sweet and satisfying. 
9. Hummus and Pita Bread
Hummus and pita bread make an excellent post-workout snack. Hummus is a protein-rich dip that aids in muscle rehabilitation, while pita bread provides carbs to replenish your energy. The combination is delicious and filling. 
Scoop up creamy hummus and toasted pita triangles for a quick and easy post-workout meal. It's a tasty approach to satisfying your appetite while also providing your body with the nutrition it requires to recuperate and thrive.
10. Nuts and Berry Oats Granola
Granola with nuts and berries is an excellent post-workout snack. It's a well-rounded pick, with protein from nuts, fibre from oats, and antioxidants from berries. It's a wonderful treat for your taste buds, thanks to the pleasing crunch and natural sweetness.
Whether you combine it with yoghurt or eat it on its own, this granola is a quick way to replenish after a workout while also satisfying your appetite and sweet cravings.
Takeaway
You should avoid consuming rice after a workout, as there are many more snack options available. These snacks guarantee optimal recovery and nourishment. You can also check out other alternative snack options for your post-workout diet session on Healthy Master