Blog
What To Carry When Travelling? Quick Recipes And Dry Snacks
by Mary James on Nov 10, 2023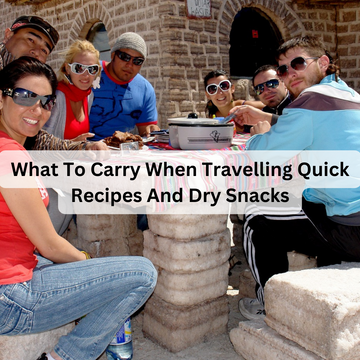 What To Carry When Travelling? Quick Recipes And Dry Snacks
Heading on a journey, be it a road trip, a hiking expedition, or an extended flight, frequently leaves us yearning for easy and quick food. That's when dry snacks and simple meals that are suitable for travelling come in handy.
Although it's not a good idea to travel with several food boxes, you can always pack snacks that won't add much weight to your bag or increase your waist circumference. You can pack a wide range of food, such as homemade brownies, health bars, chips and biscuits. Usually, it's a better option for you to choose the healthier route and prepare nutritious snacks. 
There are many healthy Indian snack options for your trips since India is a diverse country with culture, traditions, and food.
Top 5 quick recipes to carry while travelling 
Thepla
This is a traditional Gujarati flatbread, or roti, made mostly of wheat flour, yoghurt, water, gramme flour, ghee, and methi (fenugreek). Theplas are prepared similarly to chapatis, which involve rolling the dough into a ball, flattening it into a circle, and then baking it.
Theplas are well-known for reducing cholesterol and are loaded with important vitamins, minerals, and iron. Research indicates that the steroidal saponins in fenugreek seeds appear to slow down the intestinal absorption of cholesterol. Additionally, theplas is claimed to improve digestion, reduce blood sugar, and manage diabetes. 
Theplas are one of the many portable, easily consumed, healthy Indian snacks that are available. Additionally, they are simple to prepare because practically every household has all of the ingredients. However, yoghurt should be avoided when packing theplas because it shortens their shelf-life.
Bhakarwadi
Bhakarwadis, a famous Indian snack, are a disc of dough filled with dried coconut, poppy, cumin, sesame seeds, dried mango, and chilli. Enjoy these bite-sized mini rolls with a cup of tea for the ideal balance of crunchy, sweet, and spicy flavours.
While certain versions of bhakarwadis are rich in fibre and low in fat, the original recipe is not included in the list of healthful Indian snacks. These can also be baked and filled with dry fruits, cereals, legumes, soybeans, methi, or flax seeds. 
Baked Bhakarwadis are a tasty, guilt-free snack option. Rich in protein and fibre, they facilitate digestion, offer long-lasting energy, and make for a fulfilling and healthful treat.
Lemon rice
The ingredients of this healthy snack recipe include basmati rice, peanuts, mustard seeds, curry leaves, and lemon juice. The result is a tangy yellow meal. It is a simple and practical breakfast or snack dish that comes from south India and can also be made with leftover rice. 
You can also omit hing (asafoetida) to make the recipe gluten-free. Lemon rice is packed with nutrients, including calcium, iron, potassium, fibre, and vitamins A, C, and E.
Lemon rice goes well with plain yoghurt, spicy pickles, or both. Because it fits neatly into a tiffin box, it also qualifies as a nutritious snack for kids. However, it needs to be consumed within a day of being made.
Khakhra 
Gujarati khakhras are crisp, round snacks that resemble rotis. Wheat flour is the main ingredient in these nutritious Indian snacks. Other ingredients include oil, milk, and gram flour, although you can customise it by adding different spices. Similar to rotis, khakhras are roasted in a hot pan while being compressed until they crisp up.
Roasted khakhras are regarded as healthful snacks since they are prepared with whole wheat. They have high protein and carbohydrate content as well as dietary fibre, which aids with digestion, blood sugar regulation, and weight loss. 
Not only are khakhras simple to pack, but they may be eaten alone or with anything from tea to jam or sabzi.
Neembu Pani
When travelling, neembu pani, or lemonade, is a cool and healthy snack option. Its zesty and tangy flavour offers numerous health advantages in addition to quenching your thirst. 
Rich in vitamin C, it strengthens your defences against illness and keeps you feeling energised while driving. For extended travel, the natural sugars in lemonade provide a rapid energy boost. 
It also facilitates digestion and helps guard against dehydration, which is important in hot weather and on long journeys.
Takeaway
It's a wise idea to pack dry snacks and quick recipes for when you travel. No matter where your travels take you, these compact solutions guarantee that you always have food and supplies on hand. 
And if you're searching for the best, healthiest options, think about contacting Healthy Master, a brand committed to offering you the best in products that are both travel-friendly and health-conscious.