Blog
List of 11 Healthy Travel Snacks You Must Carry
by healthy master on Jun 03, 2022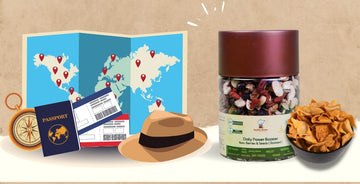 Traveling is all about discovering new locations and getting away from your daily routine. Whether you're travelling for business or pleasure, you'll need to be well prepared to ensure a smooth trip to your intended location. While we spend a lot of time thinking about what clothes and other travel requirements we need to pack, we sometimes overlook one important factor. Food!
Choosing a healthy and appropriate snack to consume while travelling can be a difficult chore. Although there are many bad meals to choose from, we believe it is critical to stick to nutritious snacks, especially when travelling, so that you can maintain your health!
We recognise the value of healthy travel snacks, which is why we've compiled a list of 11 nutritious and tasty travel snacks that you can easily pack in your luggage and enjoy anytime you want. Look over the list and choose your favourites. Before discovering the healthy travelling snacks list, you should know what makes your snacks healthy.
The Definition of Healthy Snacks
Snacks are an important part of a balanced diet. They keep your body's energy levels high, allowing you to engage in a variety of activities. Not all snacks, however, are nutritious; some are rich in calories, carbohydrates, sugar, and salt and have little nutritional value.
Healthy snacks are high in nutrients, vitamins, and minerals that will nourish your body while also maintaining a consistent blood sugar level. As a mid-day snack, include nuts, seeds, and fruits in your diet. A perfect snack should offer you all of the nutrients you require while also keeping your stomach full for a longer period of time.
Snacks are beneficial to your health in a variety of ways. The ideal snacks are those that are simple to prepare, delicious, and nutrient-dense.
List of Healthy Dry Snacks to Carry While Travelling
1. Nuts & Berry Oats Granola
Granola snacks are convenient and don't need to be refrigerated, so they're ideal for road trips. Many granola snacks, however, are high in added sugars and other unhealthy additives, so go for items produced with natural, nutritious components like almonds, oats, chia seeds, and dried fruit. Healthy Master offers you healthy granola snacks made from oats, nuts, and berries. It is a healthy way to start the day, as it contains 12 key vitamins and minerals.
Buy Nuts & Berry Oats Granola Online at Healthy Master
2. Roasted nuts and seeds
While travelling, follow our suggestion and eat a nutritious snack of nuts and seeds. Fill an airtight jar with seeds and roasted nuts like almonds, peanuts, pistachios, and groundnuts. You can eat them dry or with a glass of milk. However, for convenience, it is recommended to eat them dry while travelling. These are not only healthy but also offer energy.
Healthy Master offers you a wide range of roasted seeds like flax seeds and pumpkin seeds, to name a few. You can buy from its wide range of nut collections like hazelnuts, Brazil nuts, pecan nuts, and pine nuts, to name a few.
Chips are likely to be a favourite among people of all ages. right? We've come up with a healthier alternative to deep-fried chips. It's baked chips all the way! Baked chips are the best snack option for your trip because they are crispy, easy to eat, and delicious. You can buy healthy baked chips from Healthy Master. It offers a wide variety of baked chips like soya chips, oats chips, ragi, and jowar chips, to name a few. Here's another great monsoon travel tip for you! Keep the baked chips in a sealed, waterproof packet or jar to prevent them from losing their crispness due to moisture in the air.
Baked chips from Healthy Master are a delightful snack with natural flavour and texture, full of fibre and protein. They are packed with protein and come with a low calorie content. Besides, they are low in saturated fats and sodium. So, they are a perfect fusion of health and taste.
4. Cookies
Cookies are one of the greatest flight snacks for a fast bite while travelling by plane. Cookies, which come in a variety of flavours and varieties, are quick, ready-to-eat snacks that can satisfy your hunger at any moment. Because they are light in weight, they are easy to carry. Cookies are perfect mid-morning or mid-afternoon snacks that will leave you feeling satisfied and full without any guilt. Cookies from Healthy Master are an explosion of flavour, coupled with the fact that they are packed with protein and all kinds of good stuff. You can buy quinoa cookies, multi-millet ajwain cookies, multi-millet palm sugar cookies, and much more.
5. Dhokla
This is another light-on-the-tummy food you may take with you on a journey. You can create dhoklas at home or purchase them. The fluffiness and flavorful taste of this Gujarati delicacy have made it a popular choice among many. You can enhance the flavour by including green chilies and spicy or sweet chutney.
6.Vegetable sandwich
Vegetable sandwiches, one of the most common Indian snacks to bring on a road trip, can be a lifesaver if you grow hungry in the middle of the ride. To make it healthier, use multi-grain bread. Both the multi-grain bread and the vegetables will give you the necessary nutrients to keep you energised for an extended time. You can eat it as a healthy meal to keep your stomach full when traveling, especially in the morning.
7. Seasonal fruits
Seasonal fruit is a nutritious item to bring on a road trip. Pick some fresh fruits of your choice and bring them with you on your journey. This is a crucial reminder! Do not chop the fruits at home because they may spoil if stored or exposed to the air for an extended time. Fruits should be washed, dried, and then packed. They're also ready to consume, providing much-needed energy for your journey. If you are travelling in the summer season, pick seasonal fruits like mango, musk melons, blackberries, and plums.
8. Muesli
Packing muesli in your travel backpack will provide your body with a bowl full of nutrients. Muesli is a healthy breakfast cereal made up of oats, almonds, raisins, seeds, and fruits. Because you won't be able to prepare robust meals when travelling, muesli can be carried as a snack to provide you with nutrition equivalent to a full meal.
9. Khakhra
Many people who travel long distances rely on Indian snacks. One of the most popular and healthy Indian snacks is Khakhra. Khakhra is light, healthy, and tasty. Packed with nutrition, they are easy to munch and fulfilling too. Healthy Master offers a wide range of healthy khakhra options like oats coin khakhra, whole wheat, and quinoa khakhra. If you are travelling with kids by train, car, or flight, Khakhra becomes a necessary travelling snack. They taste yummy and are nutritious too. They contain no preservatives and are a better bet than conventional snacks. These healthy savouries are a delicious snack that you can enjoy along with your chai or coffee.
They are high in carbohydrates and proteins, as well as dietary fibres, which aid with weight loss, digestion, and blood sugar control.
10. Bhakarwadi
Bhakarwadi is a popular Indian snack. There are many variations of Bhakarwadi that are low in fat and fiber-rich. Baked bhakarwadi is a great healthy snack for travelling. Healthy Master's Bhakarwadi is baked, non-fried, and made of whole wheat flour, which is filled with a tangy, spicy, and sweet nutty filling. It adds the right amount of texture, delectable taste, and crunch, which you can feel in every bite.
Buy baked Bhakarwadi online for your next trip at Healthy Master.
11. Dalia
Dalia is a superfood with a high protein content, making it a popular choice among fitness enthusiasts. Dalia is high in fibre, aids weight loss, is a good source of minerals, aids in appetite suppression, is low in fat, and is suitable for diabetics and children. While dalia makes for fantastic, healthy evening snacks or even breakfast and dinner, it must be consumed within a day of preparation.
What are Benefits of Healthy Snacks?
Healthy snacking can significantly enhance your health by reducing cravings and elevating your mood! Here are some health benefits of healthy snacks:
1. Mental Wellbeing
One of the most crucial aspects of your daily existence is your mental wellness. But did you know that snacking has a significant impact on our minds? Depending on what kind of snacks you eat throughout the day, the manner in which you snack might have a favourable or bad impact on your mood.
Sugary and unhealthy foods make you feel good on the surface, but they actually make you feel worse. Healthy eating, on the other hand, might have a favourable effect on your mind. 'Good' bacteria are produced by eating healthy snacks. This sends pleasant signals to your brain, which improves your mood. Unhealthy snacks, such as burgers or sweets, might elevate the mood temporarily, but this is due to the "bad" bacteria formed when these meals are consumed.
2. Nutritional Intake
With an increasing number of people skipping lunch at work, more people around the country are missing out on important eating opportunities. This suggests they aren't getting enough nutrition to keep up with their busy schedules.
Snacking is an easy way to boost your nutritional intake and ensure you're getting everything your body needs to thrive throughout the day. This is also a good way to vary the nutrients you get from your meals according to what you consume. Do you want to increase the amount of fibre and protein in your diet? Protein-rich foods should be consumed.
3. Improves Metabolism
Snacking has been shown to boost metabolism. It's simple: allowing your body to consume food throughout the day improves the efficiency of your metabolism. Sugary foods, for example, do not help this process. Healthy snacks, on the other hand, can help you increase your metabolism by providing a good balance of nutrients. On the other hand, eating less can have a detrimental impact on your metabolism. It's all about striking a balance, so don't over- or under-snack.
Conclusion
Snacking is an important part of a daily diet because it can help you stay energised when travelling. Healthy snacks in between meals can help to curb hunger and reduce overeating during mealtimes. Snacking is particularly crucial while travelling because it keeps you alert and energized. Choosing something wholesome that won't spoil quickly is a plus because you don't want to jeopardise your health while travelling. And, while snacking is unavoidable, you must remember to eat healthy snacks to stay in shape. In fact, the healthier your snacks are, the more enjoyable your journey will be. When you feed your body the nourishment it craves, it will provide you with the energy and happiness you need to make the most of your vacation.
Frequently Asked Questions on Travel Snacks
Q. Which food is best for travel?
A. When you travel, it is advisable to carry non-perishable foods like dry fruits, cookies, khakhra, and baked chips.
Q. What is the most popular road trip snack?
A. The most popular road trip snack among travellers is baked chips.
Q. What is a good snack on the go?
A. The good on-to go snack is healthy and tasty cookies and biscuits.
Q. What snacks do you need for a road trip?
A. For a road trip, you need handy and ready-to-go snacks like baked chips, dry fruits, nuts, cookies, khakhra, granola, to name a few.
Q. How do you pack snacks for travel?
A. It is recommended to pack your snacks in airtight bags.
Q. What foods do you typically pack on long road trips?
A. On long road trips, it is advisable to carry non-perishable foods like dry fruits, cookies, and snacks, to name a few.
Q. What should I pack for a 5-day road trip?
A. Apart from extra clothing and towels, you should carry healthy and nutritious foods for a 5-day road trip. It is advisable to carry foods that don't spoil easily. You can carry peanuts, chana, roasted makhana, and baked chips, to name a few.