Blog
The health benefits of the Healthiest Nut: Hazelnut
by Shopify API on Sep 04, 2021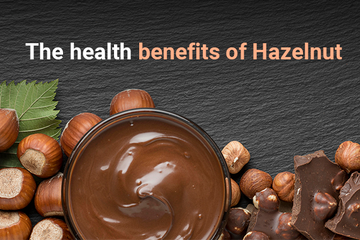 Hazelnuts are sixth among the top ten nuts in terms of global consumption. They come after the peanut, almond, walnut, cashew, and pistachio. (Although the peanut isn't botanically a nut, it's counted as one for statistical purposes.) Hazelnut Benefits more as compared to other nuts. Turkey is the world's greatest producer of hazelnuts, with Italy, Spain, the United States, and Greece rounding out the top five.
The hazelnut is a deciduous tree of the birch family. It's native to North America, Europe, and Asia's temperate zones. Wild hazelnut thrives in well-drained soils with sufficient precipitation. Hazelnut cultivation began more than 5000 years ago when people discovered the plant's nutritional and health benefits.
Hazelnuts are still quite popular, and they are one of the most widely cultivated and consumed nuts on the globe. Hazelnut benefits include they are rich in minerals, nutrition, vitamins, and fibers. So if you want hazelnuts benefits your health in effective ways do not forget to buy fresh packs from the healthy master website.
The nuts themselves are small and spherical, about the size of a huge marble. Hazelnuts are crunchy when fresh, but can be ground into a creamy paste when processed. They have a deep flavor that stands out even when combined with other strong flavors, such as chocolate.
Here is the list of hazelnut nutrition facts:-
Calories: 176
Total fat: 17 grams
Protein: 4.2 grams
Carbs: 4.7 grams
Fiber: 2.7 grams
Vitamin E: 21%
Thiamin: 12%
Magnesium: 12%
Copper: 24%
Manganese: 87%
Want to know more about hazelnut health benefits? So let's dive in:-
Full of antioxidants - Hazelnuts contain a high number of antioxidants. Antioxidants protect the body from oxidative stress, which damages cell structure and speeds up the aging process, as well as cancer and heart disease. Phenolic chemicals are the most abundant antioxidants in hazelnuts. They have been shown to aid in the reduction of blood cholesterol and inflammation. They may also be useful to heart health and cancer prevention. When compared to not eating hazelnuts, which did not affect, eating hazelnuts, with or without the peel, dramatically reduced oxidative stress. The skin of the nut contains the majority of the antioxidants contained. However, after the roasting process, the antioxidant level may drop.
Reduce the chances of getting cancer - Hazelnuts may have anti-cancer benefits due to their high concentration of antioxidant chemicals, vitamins, and minerals. Hazelnuts have the highest concentration of proanthocyanidins, a type of antioxidant found in other nuts such as pecans and pistachios.
Decrease inflammation - Because of their high quantities of good fats, hazelnuts have been associated with lower inflammatory indicators. In one study, 21 participants with high cholesterol levels were given hazelnuts to see how they influenced inflammatory markers like high-sensitivity C-reactive protein. After four weeks of following a diet that included 18–20 percent hazelnuts in their total calorie consumption, the subjects saw significant reductions in inflammation. Furthermore, consuming 60 grams of hazelnuts per day for 12 weeks helped overweight and obese adults lower inflammatory markers. Another study looked at the effects of eating hazelnuts on inflammation.
Improves heart health - Eating 29 to 69 grams of hazelnuts per day has been linked to better cardiac function. Hazelnuts are high in healthy fats, antioxidants, and amino acids, and they can aid to improve general heart health and reduce stress! Antioxidants are abundant in hazelnuts, which are beneficial to your core. They're high in magnesium, potassium, and dietary fibers, all of which aid in the maintenance of healthy blood vessels and arteries. They also help the body eliminate bad cholesterols, which have been related to several chronic conditions. Hazelnuts are strong in monounsaturated acids and fiber, both of which assist to reduce LDL (bad) cholesterol while increasing HDL (good) cholesterol.
Boost brain functions - Hazelnuts are rich in healthy fats and amino acids, which can help promote and regenerate brain cells. They are considered one of the best meals for enhancing brain function, along with walnuts and almonds. Hazelnuts are strong in thiamine, selenium, vitamin E, and vitamin K, which are all good for memory and brain function.
Rich in vitamins - Hazelnuts supply the body with a healthy rush of energy. Furthermore, these advantages are beneficial to metabolism and intestinal health. Hazelnuts include vitamin B, which aids in weight loss and healthy weight maintenance.
Good for your skin - Hazelnuts are high in Vitamin E, which helps protect against the sun's harmful UV radiation. Protection against skin cancer and reversing the effects of skin aging are further advantages. Who knew eating healthy could be so yummy?
Including hazelnuts in your diet is quick and easy. The above-mentioned were how hazelnuts benefit your health in different ways. Hazelnuts can be eaten as a nutritious snack or used as an ingredient in a variety of cuisines. You can buy them raw, roasted, whole, sliced, or ground and eat them. Surprisingly, it appears that individuals prefer sliced and whole hazelnuts to ground hazelnuts. While the skin contains the largest concentration of antioxidants, some recipes call for the skin to be removed.
How to store hazelnuts:-
Shelled hazelnuts can be found in bulk in natural food and specialty stores they should be full and plump, with a rich red-brown hue and a glossy shine on their skins. Hazelnuts without the shell are normally less expensive than shelled hazelnuts; their shining brown shell is easy to crack, and since these nuts aren't consumed in huge amounts, shelling 1/2 cup or so as needed isn't a demanding task. The shells also aid in keeping the hazelnuts fresher for longer. Hazelnuts in their shells keep for several months at room temperature; shelled hazelnuts should be refrigerated if kept for longer than a few months.
Ways to consume hazelnut and get the most health benefits:-
By garnish sauteed veggies - Make a healthy the dish just by sauteed broccoli, green beans, asparagus, and other green vegetables that can be topped with coarsely chopped hazelnuts.
Desserts - Hazelnuts are appreciated as a dessert nut because they have such a rich flavor. They're famous for their use in tortes and their fondness for chocolate. For a lovely change of pace, use hazelnuts as a substitute for chopped walnuts or as a garnish for cakes and muffins.
Stuffing in mushroom - Finely ground hazelnuts make a wonderful appetizer when used as a stuffing for mushroom caps.
Hazy pasta - Toss about a third of a cup of finely chopped hazelnuts into grain pilafs and pasta dishes for added flavor, protein, and crunch. You may also create pesto with hazelnuts instead of walnuts or pine nuts.
Do you know hazelnuts are best o to create a delightful nut butter that may be spread on toast or used in cookies? Want to make hazelnut butter just like peanut butter? No problem you can make it just have to buy hazelnuts in bulk. Get the best preservative-free, gluten-free organic hazelnut from the healthy master website and just follow the below-mentioned recipe.
Simply put 1 cup shelled hazelnuts in a blender or food processor and blend it until the nuts are totally broken down and clump together. Add a spoonful of neutral vegetable oil or nut oil to the processor if the mixture needs a little help smoothing out. Transfer to a small, firmly closed jar once smooth (a little roughness is okay). If your kitchen is cool, store at room temperature; otherwise, freeze and bring to room temp then use.
Recipe of hazelnut milk shake with health Benefits:-
If you've ever eaten a raw hazelnut, you're already aware of how sweet and creamy they are. Hazelnuts seem to be the ideal nut for creating nut milk. The taste is comparable to almond milk, but it's less sweet and has a stronger nut flavor. Oh, and it creates the best chocolate milk in the world. Hazelnut milk is a drink prepared from hazelnuts that has a "milky" consistency. It's prepared by blending nuts and water together, then straining out the pulp. Hazelnut milk is a great dairy-free substitute for milk.
To begin, start with raw hazelnuts. If you can find them skinned, that's great, but it's not required. The skins are slightly bitter, but nothing to be concerned about.
Allow time for the nuts to soak. Fill a bowl halfway with water and soak your hazelnuts for 12 hours. This is an excellent task to complete the night before you make your milk.
Drain and rinse the hazelnuts that have been soaked. In a high-powered blender, combine the ingredients with the water.
Using a nut milk bag or a colander coated with cheesecloth, strain well, capturing the liquid. Squeeze the bag to squeeze (and capture) the extra liquid. Last but not least step keep refrigerated in an airtight jar.
Recipe for hazelnut cookies With Health Benefits:-
As everyone who has spread a tablespoon of Nutella on toast knows, chocolate and hazelnuts are a simple and natural flavor combination. There is an armload of hazelnuts in these cookies, as well as two armloads of chocolate in the shape of raw cacao powder and semisweet chocolate chips.
Do you ever feel like you have no control over what your child eats, especially at school, if you're a parent? There isn't a day that goes by when a teacher doesn't award students with candy or Cheetos, or when a student doesn't get doughnuts or cupcakes on his or her birthday.
Preheat the oven to 375 degrees Fahrenheit.
Mix the butter and sugar together in the bowl of a stand mixer or in a large mixing dish with a spatula until well combined.
Pour in the vanilla extract, flour, crushed hazelnuts, unsweetened chocolate, and baking powder, then mix the cornstarch-water mixture. Stir in the chocolate chips once the mixture has been thoroughly mixed.
Drop 3 4-inch balls of dough at least an inch apart on a baking sheet fitted with parchment paper. Don't bother about shaping them; just drop them with a rounded spoon or your hands will work fine. As the cookies bake, they will expand.
Bake for 10 minutes with the cookie sheet in the oven. Allow the cookies to cool on the baking sheet for a few minutes before transferring to a cooling rack with a thin flipper.
Enjoy your delicious hazelnut cookies.
Special tips while making hazelnut cookies With Health Benefits:-
To create these cookies, combine whole wheat pastry flour with half unprocessed all-purpose flour and half normal whole wheat flour, or entirely unprocessed all-purpose flour.
Try a different nut. These cookies would be fantastic with hazelnuts. Alternatively, you can simply add some hazelnut powder or coconut flour. Half a cup will suffice.
If you don't want to use butter, any vegetable oil, such as avocado or coconut oil, would suffice.
If raw cacao powder is unavailable, normal baking cocoa can be substituted. Everything is fine.
In case if you do not have a mixer to grind or you do not want to use it you can follow this tip To create these cookies, you don't need one. In a large mixing bowl, combine the ingredients in the order stated. Make sure the butter is at room temperature before you start mixing so it can readily combine with the sugar.
We at healthy master believe that small steps can make a tremendous difference in your life. Such as snacking on dry fruits to satisfy late-night desires, preparing a meal with a healthy dose of olive oil, or brewing a cup of freshly brewed green tea. We're here to help you make these small decisions naturally by sourcing only the best from around the world. And now you must have been amazed by the many health benefits, different recipes of hazelnuts.
It's amazing how much energy a bunch of dried fruits, seeds, nuts, and berries can provide. We always offer our customers the best, from California Almonds to American Prunes to Dried Afghan Figs. Our unique gifting line includes a selection of dried fruits, berries, and nuts that have been particularly selected for you to enjoy with those you care about most.