Blog
Top 4 Reasons to Give Corporate Gifts at the Holidays
by Shopify API on Oct 02, 2021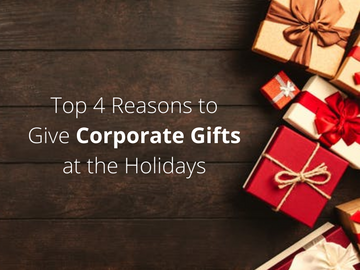 Diwali is a festival of lights where families and friends come together to celebrate the success of each other. It's a time when people return home with their families and celebrate together, where they share happiness through exchanging gifts, sweets, and decorating their homes. The preparations begin when the festival draws near. We all know that when you give gifts to someone, then that person feels very happy, and when that happens, we feel very successful and accomplished.
There are many reasons to give corporate gifts. It is a great form of appreciation and acknowledgment towards employees, clients, and business partners. Corporate giving is not just about offering them rewards, but also about increasing the team's morale, building camaraderie, and having fun together. Here are 4 big reasons why you should give corporate gifts:
A good gift is a great investment.
Business gifts, when used properly, can add enjoyment and improve your business relationships. There are plenty of ways to use Diwali Dry Fruits Gift boxes in business, from simple gestures to company giveaways. Businesses have been using gifts for decades in a variety of ways to help grow their presence in the marketplace and strengthen their client base. The best reasons for buying a corporate gift are to build relationships with your colleagues and to be supportive. When you buy a corporate gift as a building block of your relationship, rather than an empty gesture, you will appreciate those gifts more deeply, and those gifts will come back to you tenfold through cooperation and trust.
Appreciation has a high ROI.
If your business is looking for ways to increase word-of-mouth marketing, then there are few things that can top thoughtful and appropriate appreciation. Why the emphasis on appreciation? The power behind it lies in human nature. People love to feel appreciated and rewarded for their hard work and loyalty. They will often go above and beyond what you ask if they feel that your appreciation is sincere. So what does all this have to do with giving corporate gifts? A lot, actually. Appreciation has a high ROI (return on investment). As you'll see soon enough, it can be much easier than you think to motivate your staff members through the use of corporate gifts.
Develop healthy corporate culture.
Corporate gifts are one of the best ways to encourage teamwork and promote healthy relationships. Employees love to receive something that was "bought" by the company in an official capacity. Receiving a gift after work or at a business event shows that you are in fact valued, either by the company worth by the person who gave the gift. Our corporate collection has small corporate gifts, corporate giveaways, Dry Fruits Gift Box, corporate incentive awards, custom packaging with your logo, and many more.
Raise morale during the busy holiday season.
Everyone loves receiving presents. Whether it's Christmas, Birthdays, or just an ordinary day of gratitude, gifts are truly thoughtful pieces of expression that can be shared with family members, friends, and co-workers. Giving gifts to your employees is an act of gratitude for their hard work throughout the year. Why do you need Corporate Gifts? Giving gifts re-establishes employee morale during the busy holiday season, which will positively affect your company's performance. The holiday season is often a busy time in the corporate world, which means it's not always easy to show you care. To give your employees or clients something they will really appreciate during this busy time of year, our corporate gift collection is a perfect choice. Our corporate gifts make for great additions to your office holiday party, charitable donations, or even quick last-minute gifts for friends and family.
Healthy Master is a leading company providing corporate gifting for Diwali
There are various reasons for planning gifts for employees, including the holiday season, to say thank you, or other special events. With over 3 years of experience, Healthy Master is a one-stop destination for premier Corporate Gifting in Bangalore. Dry fruits are natural food ideal for various purposes. If you have selected the Best Diwali Gifts for your relatives, dear ones and want to discuss their other benefits, then this is for you.
Dry fruits are one of the healthiest snacks you can make. Dry fruits are known to be rich in protein, fiber & essential minerals & vitamins. Dry fruits also do not cause any kind of harmful effects on your body. Dry fruits are different from their fresh fruits counterparts. The dry fruits sit on a shelf for a longer period of time given they have been processed, some at the time of harvesting and some afterward. We also provide millet snacks. Millet is one such healthy grain that offers maximum nutrients and is also very easy to digest. Millets are round, small, and yellow grains which come from the same family as rice. They are popular as cereals and varieties which can be ground to make flours and pasta.
Millets are grains that form an important part of the Indian diet. They are full of nutrients and healthy values. They are rich in amino acids, proteins, and fiber which make them ideal cereals for people to consume daily. They are low in sodium and sugar but high in zinc, calcium, folate, and magnesium. The nutritional value of millets includes vitamins A, B, C, and E. The types of millets that you can easily get in the market include foxtail millet, little millet, finger millet, pearl millet, barnyard millet, and proso millet.
We have a variety of ragi snacks. Ragi is one of the best sources of calcium, minerals, and vitamins. Ragi provides energy to our body along with fiber. Ragi has nutritional value; It's fortified with various ingredients like vitamin B-complex, Vitamin-C, manganese, iron, zinc. Its great health benefits have been documented for centuries in Ayurveda texts. Its popularity can be tried from the fact that it is not only high in energy but also tasty fillers for breakfast. Holiday gifting is a challenge every year. Online shopping is convenient but lacks originality. Give your clients something they will remember by implementing an effective corporate gifting program by the healthy master.