Blog
Why dry fruits gift packs are the perfect gift for every occasion?
by Shopify API on Oct 02, 2021
The holidays are a time for giving and in a world of modern technology; it can be difficult to find the perfect gift for someone else. This is where Diwali dry fruits hampers come in! They make the perfect choice for any occasion from birthdays to Christmas. A dry fruit gift pack is a thoughtful, healthy, and convenient present that will leave your friend or family member feeling appreciated. You can buy one online for an extra-special touch or order one from one of our partners.
Whether it is an occasion to celebrate or an occasion that calls for a gift of condolence, the dry fruit gift pack is the perfect answer. Dry fruits are healthy and tasty, with no preservatives or artificial flavors. They are also convenient for people on the go. There are many different reasons why dry fruit gift packs are so perfect for any occasion. Dry fruit gift packs have all the benefits of regular fruit but without the hassle. The dried fruit comes pre-packaged in containers that can be sealed, making them easy to transport anywhere you need to go. You can give your friend on their birthday some dried apricots on and not worry about them spoiling before they get home.
The perfect gift for your friend who is trying to eat healthier, the foodie in your life, or someone who just loves to snack on dry fruit! This article will tell you everything you need to know about dry fruit gift packs. We'll discuss why they're a great choice for everyone, what makes them unique, and how to decide which package is best for the person you're buying it for.
Gift Good Visions And Good Health
It is a good idea to gift someone a present that will help them stay healthy and take care of their weight. Dry fruits are the best option for this as it is healthy and economical too. Dry fruits are dried naturally by air or sun rays and contain fewer calories than fresh fruit. They are also full of nutrients. There are many varieties of dry fruits available in different colors, shapes, sizes, tastes, and prices which make it easy to find the perfect one for any occasion.
Dry fruit can be a tasty and healthy snack or a major part of a meal when eaten with other ingredients. But, not only are they good for the body, but they also promote good vision and good health.
Wish Them Prosperity With Healthy Dry Fruits
As a corporate gifting company, we have been interacting with our clientele over an extended period of time. With the ever-growing competition in the industry, the client-company relationship is of great importance. In order to maintain this for a longer span, we believe that gifting as a marketing strategy is extremely useful as it reflects on various aspects of the business and culture of a particular region/country. Food is the ultimate gift. People love to share it, especially with people they love. But food doesn't just represent care. It also carries the essence of culture. Diwali Dry Fruits Gift boxes aim at creating this quintessential experience that transcends boundaries of space and time.
Attractive Packaging With Healthy Master Dry Fruits
Being an important feature for the reasons mentioned earlier, it makes your gifting products stand out. But it is not enough to do the job. The entire package must be easy to get and carry as well. You don't have to compromise on the packaging. A sturdy box, a gift wrap, or even special handling products to ensure the gift is safe and protected till it reaches its recipient. If we talk about Indian food and tradition, then dry fruits and nuts play an important role in it. They are generally packed in cones, jams, or boxes.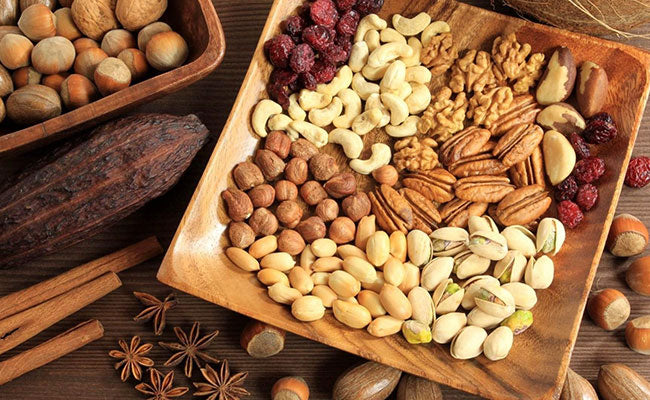 There is a tradition of gifting dry fruits and nuts to friends and relatives on every occasion like Diwali, Christmas, New Year, etc. But if you look at the Indian market specifically there is a huge variety of such products hung in different kinds of packaging like cones, boxes, jars, etc. These packagings add beauty and elegance to the whole presentation but especially when ready-to-use packs are made attractive with the help of various materials then it attracts the customer towards buying that product.
No Need to Worry About Shelf Life When It Comes To Dry Fruits
Dry fruit gift packs are an ideal gift either to be sent directly to your loved ones or kept for yourself when you want to pamper yourself with mouth-watering snacks. The best part about this gift is that it can be availed at any time of the year. No need to worry about shelf life when you decide to gift dry fruits in season. Dry fruits like raisins, dates, figs, prunes, and almonds are pressed into cute shapes and packed in biodegradable pouches or colorful bottles. Dried fruit is the best way to add flavor and nutrients to your recipes. It can be eaten directly from the package or used in smoothies, salads, desserts, or other scrumptious snacks. Dry fruits are great for office tiffin or home preparations for snacks for everyone.
Perfect Match in Current Scenario of Covid-19
In today's dynamically changing scenario, dried fruit gift packs have made an altered place in the market. Gone are the days when a simple box of chocolates would do the trick. For everyone who is running short of time, arranging gift hampers can be a stressful task. The entire process of selecting the best product, placing orders, getting them delivered, addressing the packaging issues may become cumbersome for you. This is especially relevant for those who are not much into gifting. Now, dried fruits have come out as a lovable gifting option.
With a number of recipes available for cooking and desserts, dry fruits have always been a great add-on to gourmet meals for their health benefits and their diverse tastes. It is well known to us that dry fruits are an excellent source of nourishment. We all know that dry fruits are rich in proteins, minerals, vitamins, phosphorous, carbohydrates, and amino acids. Dry fruits are gifted to loved ones at different events also. If you are looking for Corporate Gifting in Bangalore, contact us for more details.