Blog
10 Must-Have Healthy Snacks for Pregnant Women – Healthy Master
by Bsocial Consultant on Dec 01, 2022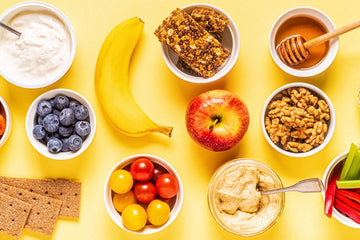 In your pregnancy time, it's crucial to take care of your health throughout the time in order to provide proper care to your baby. It is usual to experience cravings at the odd time, however you can't eat anything and everything. Because what you eat has a direct effect on your health and, therefore, on your child's health. There are a few healthy snacks for pregnancy that not only satisfy your cravings but also keep your health in check. These nutritious snacks are flavorful and packed with nutrients, vitamins, and minerals needed for the development of your child.
So, if you are on this beautiful journey of a mother-to-be, then you must add these
10 Nutritious Snacks For Your Pregnancy Diet
Also Read: 4 Dry Fruits & Nuts for PCOS Treatment
Sprouts 

Sprouts make a delicious and nutrient-dense snack. Additionally, they are a good source of fibre and iron. You can eat raw sprouts in a salad or raita. They can also be added to soups or paranthas. They are one of the favourite late-night pregnancy snacks among mothers-to-be.

Dhokla 

Another great snack to eat during pregnancy is dhokla. Dhoklas can be a delicious snack option because they are low in calories but high in flavour. Probiotics, which aid with digestion, are typically present in high concentrations in fermented foods. For added nutrition, you can mix in boiled vegetables like carrots (gajar), corn (makkai), and beans.

Nuts and Seeds 


During the third trimester, you need an extra 450 calories a day in addition to your regular protein and calorie needs. To satisfy your cravings in the third trimester, you must include seeds and nuts in your diet. Seeds and nuts are packed with thiamine, essential omega-3 fatty acids, and proteins. Add sunflower seeds, hazelnuts, almonds, and walnuts to your pregnancy diet for the last trimester. They are one of the best late-night pregnancy snacks. 
Also Read: 6 Dry Fruits & Nuts Good for Pregnancy
Green Smoothies

One of the best healthy and yummy drinks to enjoy in your third trimester of pregnancy is green smoothies. Blend the healthy spinach and ice to prepare the rich and delicious green smoothies. To enhance its taste, you can add berries, mango, mint, or ginger. It is a great source of fibre, calcium, vitamin B6, magnesium, and potassium. It is one of the best high protein snacks for pregnancy. 

Quinoa Dalia 

Rich in iron, quinoa is perfect for meeting 15% of the recommended daily value of iron. Instant quinoa dalia mix is the perfect way to incorporate quinoa into your diet. A perfect breakfast option, quinoa dalia is a great source of amino acids, dietary fiber, antioxidants, magnesium, and iron. Additionally, quinoa dalia healthy, low in calories, and gluten-free, so you can easily add it to your pregnancy diet. 

Sweet Potato 

Do you know sweet potatoes are full of vitamin A? To your surprise, one sweet potato provides 368% of the recommended daily requirement of vitamin A. You can cut sweet potatoes into rounds. Roast them and then top them with seasonings to create snacks that are both savoury and sweet.

Broccoli Sandwich 

Do you know broccoli contains 220% of the recommended daily requirement of vitamin C? A broccoli sandwich is the best way to add broccoli to your pregnancy diet. It is an excellent breakfast option and one of the healthiest snacks for pregnant women because it increases vitamin C intake. Moreover, if you love pizza, make the healthy version at home by adding broccoli. 

Boiled Eggs

Do you know eggs are essential not healthy for you in pregnancy but they are also vital for the brain development of baby. Whenever you feel hungry in the evening, eat boiled eggs. They make the best snacks for pregnant women. 

Idli

Idli is one of the most popular pregnancy snacks in the first trimester among mothers-to-be. Add finely grated carrots (gajar), beans (beens), curry leaves (kadhi patta), coriander leaves (hara dhaniya), and cabbage (patta gobhi) to the batter to increase the nutrient content of your idli. Serve your idli with coconut chutney (nariyal), coriander and mint chutney (hara dhaniya), or lentil-rich sambhar for an iron boost.

Popcorn 

If popcorns are your favourite, here is the good news - you can continue to eat them in your pregnancy. Popcorn is high in fibre. In your pregnancy, go for the air-popped popcorn and top it with your favourite seasonings. 
Also Read: 8 Best Gluten-Free Snacks
Conclusion 
During pregnancy, it is natural to feel hungry at one time and nauseous at the thought of eating a meal. What should you thus be eating during pregnancy phase to maintain your energy levels between meals while also giving your child extra nutrition? Snacks for pregnancy should be enjoyable, healthy, and complete. They should fuel your body with essential nutrients that support the growth of your baby, particularly protein, folate, calcium, vitamin D, DHA (omega-3 fatty acid), iodine, and iron. Healthy Master is your one-stop-centre for all your healthy snacks needs.